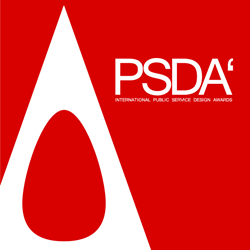 Best public service design awards will be highlighted.
Como, Italy (PRWEB) March 05, 2014
A' Design Award & Competition today announced that the Annual International Public Service Design Awards (PSDA) are now open for entries. The PSDA accolades will reward innovation, creative achievements, and effective & responsive public administration service designs in all countries. Policy makers, scholars, government officials and administrators worldwide are invited to submit their innovative solutions for governance challenges for award consideration.
Prospective entrants to PSDA awards program are called to submit a graphic presentation of their public service designs that leads to improvement of public services through better design. Entries will be voted by a jury panel of academics, design professionals and press members. Entries will be scored based on evaluation criteria such as greater accessibility, improved service quality, increased reach, increased participation, increased transparency, integrated decision-making, improved resource management, efficiency, positive social transformation, reduction in crime, prevention of corruption, improved responsiveness, reduction in natural resource utilization, holistic approaches, increasing access to information as well as aesthetics and visual appeal of the proposed solutions and presentation of entries. There is also a special design award category for public online e-services such as e-government, e-trade, e-tax, e-health etc. Entries demonstrating economic efficiency and the ability to achieve a superior result within available capabilities and resources will be especially highlighted. The decision of the jury shall be final.
Self-nominations will be accepted, nominations can be made by the institutions such as government departments and agencies, universities, non-governmental organizations, professional associations as well as private businesses designing or delivering public services. The winners of the Public Service Design Awards receive a certificate of excellence and they are awarded with the prestigious A' Design Awards Trophy. Nominations shall be made online at http://www.adesignaward.com after registering and uploading presentations. Deadline for entries is on March 30, 2014. Results will be announced on April 15, 2014.
About the International Public Service Design Awards
International Public Service Design Awards were established by the A' Design Award and Competition to push public administrators and policy makers worldwide to come up with more innovative, efficient, imaginative and social public designs that increase the quality of life of citizens. The A' Public Service Design Awards aims to help disseminate knowledge on exemplary public administration and good service design projects by sharing know-how and case studies which could lead to applications in other countries, situations and contexts.
About the A' Design Award & Competition
A' Design Award & Competitions are organized in all design disciplines to highlight, recognize and feature original, innovative and creative design solutions from all countries that benefit society. The primary aim of the A' Design Award & Competition is to help spread knowledge and good design solutions that leads to creation of positive outcomes and a better lifestyle for the general public. A' Design Award & Competition creates incentives for individuals and institutions worldwide to contribute to advancement of mankind by recognizing their outstanding achievements in design, science and technology. Learn more at http://www.whatisadesignaward.com.