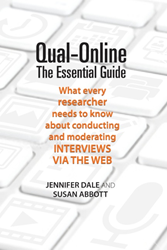 This guide is a gold mine!
Ithaca, NY (PRWEB) September 17, 2014
"Spare yourself any pitfalls and buy this book," says Pat Sabena, Principal of Sabena Qualitative Research. Sabena has been in the qual biz for nearly 50 years and was one of the first to offer her take on the new release of a business book about online interviewing.
Qual-Online, the Essential Guide, by Jennifer Dale and Susan Abbott is already attracting pre-orders at ParamountBooks.com and Amazon.com.
For researchers and marketers alike, the new business book takes readers on an entertaining tour of all the possibilities for online interviewing and qualitative data collection. Full of practical, hands-on tips, even those experienced in qual online will find new approaches and exercises to engage participants.
From learning about the types of tools at your disposal, to planning your first online study, this extensive guide will help readers understand the sequence of steps to follow, timing, and costs involved.
About InsideHeads
InsideHeads is a full-service online market research company since 1998 with experience developing surveys and platforms for moderating online focus groups.