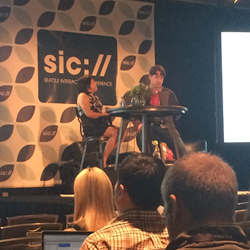 Seattle, WA (PRWEB) October 23, 2014
Last week, the annual Seattle Interactive Conference (SIC) brought over 3500 marketing, interactive, and design professionals together as well as entrepreneurs and students for two days of education and structured networking. R2integrated's VP of Digital and Social Marketing, Page Sands, along with Monica Lay, Senior Product Marketing Manager for Advertising Solutions at Adobe, were among the more than 75 featured speakers at SIC. R2i and Adobe partnered together to bring SIC attendees a presentation focused on the evolution of paid social advertising and spoke to a full room of over 150 attendees.
As a nationally recognized, full-service digital marketing agency, r2i has the experience to address paid advertising from a search, social and content perspective and discussed the role of search and advertising in digital marketing as brands face new challenges in reaching new audiences and scaling campaigns. Sands provided insights on audience engagement, metrics and the current landscape of social advertising which set the stage for Monica Lay to discuss the future of social advertising. From programmatic media buying to enhanced audience profiles and personalization, Lay emphasized the changes brands can expect to see in social advertising and their ability to reach consumers. Through techniques like social retargeting, multi-channel advertising and using predictive analytics, it was conveyed that brands can better optimize their ad campaigns to maximize their budgets and increase ROI.
The joint presentation also included case studies on successful social advertising and Lay relayed examples from Adobe clients in education, eCommerce and travel verticals. Questions from the audience indicated that this topic is a priority among brand marketing teams as social channels become more crowded with content and as more solutions, like Adobe Media Optimizer, become available to help activate and manage digital advertising campaigns.
In addition to the presentation, r2i and Adobe partnered in hosting 50 SIC guests from brands such as Pokemon, Microsoft, Nordstrom and AT&T for lunch during the event. Presenters as well as invited attendees joined together for networking lunches to discuss the changes and opportunities in digital marketing. "We have a full-service office in Seattle so participating in SIC makes a lot of sense for us. The lunches we hosted with Adobe gave us a chance to meet more brands in a casual setting while having the chance to present our strategic Adobe business partnership," shares Jody Stoehr, President of the r2i Seattle office.
For more information on r2i, visit r2integrated.com and for more information on Adobe Media Optimizer, visit http://www.adobe.com/solutions/media-optimization.html.
About R2integrated
R2integrated ("r2i") is a high growth, next-generation digital/social marketing and technology firm specializing in creating meaningful customer engagement in the ever-changing world of peer-to-peer interactions and complex technology requirements. R2i provides advanced expertise in content and social media marketing and is able to bridge the gap between marketing disciplines and the advanced technologies required for 21st century execution. The company offers a comprehensive set of professional services and technology products including social/digital marketing strategy and programs, social/consumer data analysis technology, content strategy and content distribution technology, and reporting and analytics – all geared toward customer acquisition. R2i clients include Microsoft, Under Armour, MasterCard, University of Michigan and Hershey's.