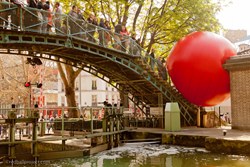 Street art is testing the boundaries of intellectual property law.
(PRWEB) February 04, 2014
When learning of the event, Perschke sought legal assistance through the New York chapter of Volunteer Lawyers for the Arts. The international firm, Gibson, Dunn & Crutcher LLP, took on the cross-border dispute on a pro bono basis, and filed a complaint in federal court against Edenred. While the precise terms of the resolution remain confidential by mutual agreement, Mr. Perschke said that he views the resolution as favorable because it was based on terms that respect his intellectual property rights.
Similar infringement disputes from the Dutch artist Florentign Hofman's difficulties in China over replications of his inflatable yellow duck (WSJ 3/31/2013) to Richard Prince's use of Patric Cariou's photos of Rastafarians.(NYT 4/25/2013) While artists are generally on the defensive side, Perschke found himself on the offensive in protecting his creative work against what he viewed as corporate infringement. He sees this as a sign of what's to come.
"As street art moves into three dimensions and artists explore more temporary public work, the copyright battles move from issues of image rights to performance rights. There are lessons to learn from the performing arts world. You can't copyright a dancer but you can copyright a dance when preserved in fixed form. A red ball is not my art, but what I create with the RedBall Project performances around the world certainly is," says Perschke.
Amer S. Ahmed, a lawyer for Mr. Perschke, agreed that the boundaries of protectable expression are likely to be clarified further in the years to come. "As branding across mediums and venues becomes of paramount importance, both for artists and corporations seeking to make a mark on the public consciousness, the reach of intellectual property law will be tested by new conceptions of performance art," Ahmed said. The Gibson Dunn team representing Mr. Perschke included Howard Hogan and Amy Wolf in addition to Mr. Ahmed, all of whom worked on the case filed in the New York Eastern District Court (case #13-cv-03167-PKC-RER).
Since its inception in 2001, the RedBall Project has performed in 18 cities globally in Asia, Europe, Australia and America for periods of 1-3 weeks each. Each site lasts only a day, comprising a series of street installations. In 2014 the RedBall Project is scheduled to appear in Galway, Ireland and Rennes, France along with possible other cities in Canada, Scandinavia and the United States.