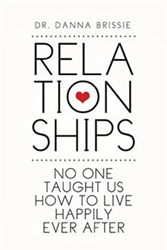 Hilton Head Island, S.C. (PRWEB) July 14, 2014
After many years of practice and after successful counseling offered to couples who come to seek her help, Dr. Danna Brissie shares a comprehensive guide to help readers and their significant others properly handle "RELATIONSHIPS" (published by Xlibris).
Comprehensive yet specific, this book covers topics from identifying one's role in relationships and the characteristics of those roles to the role of medication in therapy. It is specific in a way that it presents problems in a relationship, the possible reasons for those issues, and the realistic solutions for each. With emphasis on "built resentment and control issues" which are primary causes of marital and business problems, Brissie helps readers work on it, resulting in higher self-esteem and confidence in the relationship for all.
A microscopic view of every human relationship, this self-help text provides understanding of the human behavior in a way that gives hope to all who want to try building a relationship or to those who would like to fix and strengthen broken ones. Relayed with the absence of psychological jargon, Brissie's book is like a dictionary of "RELATIONSHIPS" offering advice one can always turn to.
"RELATIONSHIPS"
By Dr. Danna Brissie
Hardcover | 6 x 9in | 178 pages | ISBN 9781499030501
Softcover | 6 x 9in | 178 pages | ISBN 9781499030495
E-Book | 178 pages | ISBN 9781499030518
Available at Amazon and Barnes & Noble
About the Author:
Dr. Danna Brissie was born in Dyersburg, Tenn., and spent her first 17 years there. After high school, she moved to S.C. where she attended Furman University, and later the University of South Carolina where she received a degree in psychology. She attended Auburn University where she received masters and doctoral degrees in counselor education. She worked with hundreds of couples over her 30 years in practice, which inspired her to write this book. She discovered many patterns in relationships and found that her clients responded successfully to the knowledge about these patterns and especially to the guide about learning their roles in relationships. Dr. Brissie is currently retired and resides on Hilton Head Island, S.C.