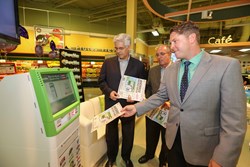 REMAG provides real value to customers, opportunities for manufacturers and service providers, and makes a real impact on the environment. We are very excited about the work to be done to evolve the program further, said Blake Patterson, EVP REMAG.
San Juan, Puerto Rico (PRWEB) January 31, 2014
REMAG, a program that rewards consumers with coupons completed its three month pilot in Puerto Rico as planned. The pilot was a huge success, with over 290,000 coupons selected by customers as a reward for recycling magazines and newspapers at REMAG kiosks in just three SuperMax locations. During the pilot period over 90,000 pounds of paper were recycled while close to $19,000 was donated to local nonprofit partners.
Not only did the pilot successfully introduce and test REMAG in the marketplace, it also highlighted the benefits and solutions to stakeholders, including:
Consumer Packaged Goods Companies—An efficient way to engage customers in their shopping environment and thus motivating them to make a desired purchase decision.
Retailers—Increased store traffic and ultimately loyalty through multiple customer drivers.
Recycling—A real solution that uses infrastructure and operations already in place.
Nonprofit Organizations—A new way to fundraise without extensive donor appeals, as communities and donors are engaged by "giving back, by doing good" while saving money.
All stakeholders—A way to build loyalty, engagement and goodwill while producing results.
With the completion of the successful pilot, REMAG is now focused on improving the program and expanding into new markets, retailers, and service providers. Improving customer and partner experience is also a priority to ensure the continued engagement by customers and the benefits are maximized for all stakeholders.
"We would like to thank all our partners for making the pilot so successful. Now we turn our attention to improving the technology, product development and future expansions to broaden our reach. It is important for us to apply what we learned to make REMAG better for our partners and our users. REMAG provides real value to customers, real opportunities for manufacturers and service providers, and makes a very real impact on the environment. We are very excited about the work to be done to evolve all components of the program and as anxious as our users to get REMAG back in the marketplace", said Blake Patterson, executive vice president for REMAG.
REMAG is investing in improving their kiosks with a new customer interface, innovative scanning technology, and a focus on operations and efficiency. In addition, the coupon program will expand to services industries and other retail outlets as a new market channel.
The reaction by the citizens of Puerto Rico was overwhelmingly positive with many people now calling for its return through social media channels. The inclusion of over 150 consumer product coupons in the pilot helped ensure its popularity. REMAG partnered with B Fernández & Hnos., Clorox, Colgate/Palmolive, General Mills, Healthy Choice, Kellogg's, Kraft, Nestle, MARS, Mondelez, Pepsi, Procter and Gamble, and Unilever and more to provide incentives and encourage engagement and participation.
In addition, the commitment by REMAG to give back to local nonprofits and charities helped engage local communities to take action. Puerto Rico nonprofit organizations participating in the REMAG program included The Humane Society of Puerto Rico, SER de Puerto Rico, Estuario de la Bahía de San Juan, Hogares Teresa Toda, Sacred Heart University, Sierra Club and the G8 (eight communities around the Caño Martín Peña). REMAG also received the support in the environmental and recycling area from organizations such as: Environmental Protection Agency (EPA), Solid Waste Authority, Green America and Puerto Rico Recycling Partnership.
If you would like more information about the REMAG pilot, future product updates, program expansion and market updates, or would like to participate in this environmentally conscious initiative please contact Blake Patterson at 615.497.9958 or email blake(at)remag(dot)org.