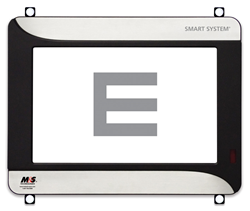 "Until now, there hasn't been a consistent protocol for measuring glare's effect on vision."
Niles, IL (PRWEB) February 28, 2014
M&S Technologies, the first name in computerized vision testing systems, is pleased to announce that the Richer Glare Disability Test is now available on the Smart System® 20/20 via the M&S Glare Testing System (GTS). The Richer Glare Disability Test emits bright glare to the patient, then briefly presents a visual acuity letter or symbol, simulating the effect of sudden oncoming headlights or stepping out into bright sun. The Eyecare Professional can use this fast and easy test to validate the patient's complaints of poor vision in glare conditions.
The test was co-developed with Dr. Stuart Richer OD, PhD, and Director of Ocular Preventive Medicine at Capt. James Lovell Health Care Facility in North Chicago, IL. In addition to being actively involved in primary care optometry and clinical antioxidant research, Dr. Richer has a special interest in aging: age-related macular degeneration, low-tension glaucoma, diabetic macular edema, cataracts and dry eye.
"Vision problems due to glare are becoming more of an issue with our aging population. Until now, there hasn't been a consistent protocol for measuring glare's effect on vision. We believe the Richer Glare Disability Test gives a consistent result that can be tracked visit to visit." Joe Marino, President
About M&S Technologies:
Founded in 1990, M&S Technologies is a software company specializing in visual testing systems and dedicated to developing the very best products for eye-care professionals, optometry schools and universities, and products used in clinical trials. To date, over 23,000 systems are in use across 39 countries with a growing network that includes 23 distributors and several strategic industry alliances. Superior service, industry-leading technology and products that define the cutting edge have been the hallmarks of M&S for over 20 years.
For more information, please contact:
Carolyn Crabb
Marketing Coordinator
M&S Technologies, Inc.
847-763-0500
ccrabb(at)mstech-eyes(dot)com
http://www.mstech-eyes.com