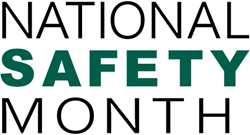 (PRWEB) June 03, 2014
June is National Safety Month, and the National Safety Council (together with a number of interested stakeholders) have planned numerous activities to sensitize the public on the importance of being safe at all times. On this year's menu, the council hopes to strengthen its commitment towards educating the public on topics such as prescription drug abuse, slip and falls, being aware of one's surroundings, and summer safety.
Safety Tip #1: Be Aware Of One's Surroundings!
There are a few things everyone can do to keep oneself, work colleagues, friends and family more safe. To begin with, it's always important to be aware of one's surroundings. Most accidents around the home or workplace happen due to not paying enough attention. One must always be aware of the potential hazards which exist at every turn. Whether it's the kitchen range, water on the floor, a malfunctioning elevator or simply tangled wires in a corner, being aware should always be top of mind.
Safety Tip #2: Pay Attention While Driving!
Distracted driving plays a major role in the occurrence of accidents on American roads. Talking on mobile phones, browsing the internet, chatting with friends on social media, and even eating while behind the wheel can prove to be a dangerous affair. When driving, one needs to be focused at all times given the different variables. Other drivers, turns, merging lanes and weather conditions can all conspire to cause an accident if a commuter is driving while distracted. It's important to note that many states have rules governing the use of cellphones while driving. Feel the need to perform any of the activities listed above? Please pull over. Everyone has a responsibility (both to oneself and other drivers) to be focused at all times while driving.
Safety Tip #3: Avoiding Slips and Falls Around the Home
Slips, trips and falls are common. That being said, there are some things you can do to protect yourself from a potentially dangerous situation. For example, you should always mop up pools of water around the home immediately. Even a small water spill can be hazardous, so grab a paper towel and blot away the liquid off the floor as soon as possible. If there are children in the home, one should always ensure that all toys are put away after playtime. Lastly, watch out for signs in commercial buildings pointing to wet floors or ongoing work since these areas may potentially cause slips and fall accidents.
One of the best ways for someone to help friends and family prepare for National Safety Month is to share this article! Alternatively, one can check out the National Safety Council Website by following this link: http://www.nsc.org/. Here's to health and safety this year!