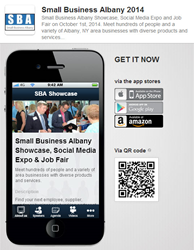 SBA Showcase offers an exciting (and free) opportunity to increase your success in business!
Albany, NY (PRWEB) June 06, 2014
The Small Business Albany Showcase is a B2B Expo, Career Fair and Social Media Event featuring seminars on a variety of business topics, personal growth and social media marketing. The show runs 7 a.m.-5 p.m. on Wednesday October 1st 2014 at the Holiday Inn express, at the corners of Rt 9 & 9H at the intersection with the Northway. There is plenty of parking on site and in adjacent lots, the hotel shuttle bus will be running from 6am-6pm. Plan on spending the day and make an investment in success.
The SBA Showcase announces great headline speakers and seminar topics! All seminar sessions are open to the public. Just announced for the October show (with more seminar presenters to be added):
Business and Marketing Seminars:
Erik Bunaes,Constant Contact, "Building your Marketing Toolkit"
Darcy Knapp, SEO Web Mechanics & Google Adwords Certified, "Google Marketing Properties" and "Youtube Paid Search Marketing"
Lauren Groff, Groff Networks, "Backup and Disaster Recovery for business owners"
Buff Bowen, Boomja Network, "Google and the New Algorithms, Shift Happens"
Teresa Scicchitano, NY Life Group Benefits, "Small Business Benefits, the new laws and regulations"
Greg Wilder, Sand Dollar Associates, "Business Funding and Opportunities"
Kathy Johnson, MS Ed., "Pyramid of Potential Unleashing Your Potential"
Tom Kearns, Hot Advertising Youtube, "Video Branding for Your Business"
Career and Personal Growth Seminars:
Ron Friedman, Damomics, "Growing your business as an Entrepreneur"
Mark Grimm, Mark Grimm Communications, "How to Dazzle Your Prospective Employer"
Dr Tom Denham, "Get Linked in or Get Left Behind" and "Secrets to Peak Performance"
Diana Hawkins, "Get Credit for What you Know!"
The four conference rooms will offer different sessions every hour! Get an education on a variety of topics from career growth to business expansion across social media. Make valuable connections and meet your next vendor, supplier, employee or employer! Admission to the event and all seminar sessions is no charge.
New presenters may apply for open sessions. Gazebo Room Exhibitor Area is SOLD OUT, Atrium Room Exhibitor Area has space available, also Patio (outdoor) space available. See website for exhibitor map to select from open tables.
Exhibitor & Speaker Sign Up form
Admission tickets are on Eventbrite, sign up on the SBA Showcase Website.
The show offers a Networking Breakfast Event from 7 a.m.-9 a.m. where presenters, exhibitors and business professionals can network. Grab a bite and coffee and connect to find suppliers, customers and build networking partners. Seminars start at 9am and run through 5pm, the noon hour is open for lunch and networking. The hotel will provide a $10pp buffet lunch where exhibitors, presenters and attendees can relax between seminar sessions, open seating inside and on the patio.
Business Seminars include topics like start up funding, internet security, mastering new technology, legal counseling and career enhancement. Social media seminar topics include Google, YouTube, Twitter and Facebook for business – with more seminar topics being added.
There is plenty of parking on site and in adjacent lots, the hotel shuttle bus will be running from 6 a.m.-6 p.m. Plan on spending the day and make a smart investment for business and personal success.
Mark your calendar and Save the Date. The Small Business Albany Showcase is Oct 1st 2014, and will be hosted by SEO Web Mechanics and sponsored by Albany Broadcasting.