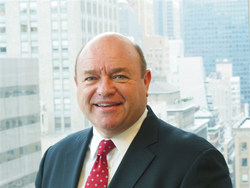 'Don brings a rare combination of intelligence, experience, and humility,' said Bryon Lyons, CEO. 'With his laser focus on enhancing the essential elements of a client's value proposition, I know our clients will instantly appreciate his counsel.'
New York, NY (PRWEB) July 10, 2014
SDDCO Brokerage Advisors, LLC, a subsidiary of The SDDCO Group (http://www.sddco.com) welcomes senior executive, Donald M. McGuire, as Managing Director of Investment Banking.
About Don McGuire
Don McGuire has extensive experience in finance, operations management, and business development at major financial services firms and corporations. Past positions include COO and Head of Investment Banking at NewOak Capital; President, CEO, and Chairman of Metastatin Pharmaceuticals Inc.; President and COO at Beenz.com, Inc.; and Managing Director and COO of Corporate Finance-Americas at ING Barings/Furman Selz, where Don was responsible for investment banking operations, including the formulation of business and personnel strategy, primarily in the United States, Mexico, Brazil, and Argentina.
Don's exceptional track record of operations management and business growth in domestic and international markets was built on his ability to quickly grasp complex business environments, drill down to specific solutions, and lead his clients toward success.
After earning his B.A., Political Science from John Carroll University and an M.B.A., Finance from Pace University, Don became FINRA registered in Series 7 General Securities; Series 63 Blue Sky; and Series 79 Investment Banking.
"Don brings a rare combination of intelligence, experience, and humility," said Bryon Lyons, CEO. "With his laser focus on enhancing the essential elements of a client's value proposition, I know our clients will instantly appreciate his counsel."
About the Managing Director Role
In his role as Managing Director of Investment Banking, Don provides advisory and capital raising services to growth and middle market companies across all industries.
About SDDCO Brokerage Advisors, LLC
SDDCO Brokerage Advisors, LLC [MEMBER: FINRA/SIPC] is an introducing broker-dealer with a focus on private placements, corporate advisory and capital acquisition services. The firm aligns with financial industry participants (broker-dealers, investment advisors, hedge funds, mutual funds, private equity firms) and corporate clients to offer investment banking, referral, and operations consulting services. As the brokerage arm of The SDDCO Group, SDDCO Brokerage Advisors, LLC also provides a platform for industry professionals to conduct business while their broker-dealer is in the midst of a FINRA new or continuing membership process. Send general inquiries to "Ask Us" on the company website.
About The SDDCO Group
Formed in 1952, The SDDCO Group extends outsourced professional support to the financial services industry. Clients include investment advisers, broker-dealers, commodity brokers, privately held funds, and U.S. arms of foreign banks. Services include SEC, CFTC, NFA and FINRA registrations, accounting services, FinOp support, regulatory compliance, designated CCO and CFO roles, AML testing, tax compliance, and broker-dealer operations and consulting.
SDDCO Locations
NEW YORK (HQ) ~ BOSTON ~ PHILADELPHIA