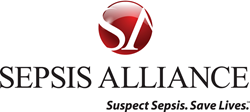 We are so pleased at the depth of experience and the stories behind the people and organizations who were nominated.
New York, NY (PRWEB) June 24, 2014
Sepsis Alliance, the nation's leading patient advocacy group promoting sepsis awareness, today announced the honorees for the 2014 Sepsis Heroes gala, which will take place during Sepsis Awareness Month on September 18, 2014, at ARENA NYC in New York City. The annual event, now in its third year, will bring together sepsis survivors, family members, patient advocates, healthcare professionals, policy makers, and members of industry who have been instrumental in raising sepsis awareness.
"We received a record number of public nominations for our Sepsis Heroes award," said Sepsis Alliance Executive Director Thomas Heymann. "We are so pleased at the depth of experience and the stories behind the people and organizations who were nominated."
Winners of the 2014 Sepsis Heroes Award are:

Every Mother Counts, a non-profit 501(c)(3) organization dedicated to making pregnancy and childbirth safe for every mother;
Jeff and Helene Zehnder, the couple behind the creation of the Step On Sepsis Inaugural 5K Road Race & Walk, which had its inaugural walk this past March;
Laura Messineo, a nurse who is a driving force for sepsis education in her health system and her community; and
Intermountain Healthcare, a healthcare system that executed a sepsis improvement project across all of the hospitals in their system, dramatically dropping sepsis mortality.
"Our 2014 Sepsis Heroes are a representation of the many kinds of people who work with the public and with healthcare workers in an effort to make sepsis more visible to everyone," added Heymann. "It is through their hard work that more people are learning about this often fatal disease and more healthcare workers are identifying it and treating it in its earliest stages."
Previous Sepsis Heroes include New York State Governor Andrew Cuomo, North-Shore LIJ Health System, author David Goldhill, and GE Healthcare, to name a few.
The evening's keynote speaker is Paul Levy, former President and CEO of Beth Israel Deaconess Medical Center (BIDMC) in Boston, Mass., and an advocate for patient-driven care and elimination of preventable harm.
Sepsis, sometimes called blood poisoning by the general public, is a life-threatening condition that arises when the body's response to infection injures its own tissues and organs. Annually, sepsis kills 258,000 people in the United States alone, or one person every two minutes. Sepsis is a medical emergency that requires early diagnosis and rapid treatment with antibiotics and fluids.
The Sepsis Heroes evening is sponsored by Johnson & Johnson Ortho Diagnostics, Medical Simulation, Wolters Kluwer Health, Presence Health, Arena NYC, and Spike Out Sepsis. Tickets for the Sepsis Heroes gala start at $100, with special VIP packages also available. Students and children under 10 are also eligible for special discounts. For those who cannot attend the Sepsis Heroes event, virtual tickets can also be purchased. Additional information about the event can be found by following @SepsisHeroes or @SepsisAlliance on Twitter, or by "liking" Sepsis Alliance on Facebook. For companies and organizations interested in supporting the Sepsis Heroes event as a sponsor, please visit http://www.sepsisheroes.org or call us at (619) 232-0300.
About Sepsis Alliance
Sepsis Alliance is the leading patient advocacy organization in North America, promoting awareness of sepsis. Sepsis Alliance's mission is to save lives by raising awareness of sepsis as a medical emergency. The organization hosts national events, distributes information, and conducts training and education on sepsis and its devastating effects. Sepsis Alliance promotes Sepsis Awareness Month in September. Sepsis Alliance also provides support by giving people affected by sepsis a forum to share information. Sepsis Alliance is a recognized 501(c)(3) charitable organization, and is a founding member of the Global Sepsis Alliance. For more information on Sepsis Alliance, please visit http://www.sepsisalliance.org.