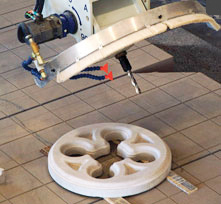 Stress-free radius templating and profiling are a welcome relief for professionals who want the best and for the customers that demand it.
Torrington, CT (PRWEB) March 02, 2015
O&G's state-of-the-art fabrication and distribution center is heating up this summer with your stone profiling and radius pool templating projects. The centers capabilities extend to advanced stone profiling and restoration services — no matter how detailed or complex. O&G offers a selection of new products and a vast inventory of traditional products including bluestone, limestone, brownstone, granite, marble, quartzite, onyx, and slate.
Working 24-hours a day, the fabrication center serves architects, restoration, landscape, pool professionals, and homeowners themselves. John Baranoski, Facility Manager oversees the 85,000 SF operation while working with industry professionals to assist in the masonry fabrication of renovation, restoration or new construction projects. "O&G's comprehensive services offer flexibility and efficiencies from its advanced CAD and fabrication methods," remarks Baranoski.
A landmark restoration project is the pinnacle for the Trinity College chapel. Pictured below is an O&G staff artisan applying the finishing touches for an exact replication of the original. Another project is Yale Repertory Theater where custom stonework was fabricated including custom windowsills, window headers, banding, water tables, base panels, buttress caps, and coping—about 240 pieces in all.
Baranoski noted that, "Stress-free radius templating and profiling are a welcome relief for professionals who want the best and for the customers that demand it." For stone projects that require radius cuts, look to O&G for its radius templating service which delivers the perfect profile and stress-free results for a beautiful finished project.
Radius Templating
O&G invites you to take advantage of its radius templating services for your next project including pool surrounds, stair treads, walls, etc. "Look to O&G for beautiful results that your customers will enjoy and you will be proud to share," Baranoski stated.   
About O&G's Masonry Division
Since its inception in 1923, O&G has grown to become one of the largest and most diversified construction companies in the Northeast and one of the largest suppliers in New England of masonry products and services. Headquartered in Connecticut the company offers LEED© project solutions to achieve the highest masonry certification. O&G facilities include eight mason stores and nine stone-yards, six Earth Products Showcase showrooms, and a fabrication and distribution center all strategically located throughout Connecticut. Customers receive expert consultation from showroom sales professionals and are guided through the widest selection of natural stone and tile products of elegantly appointed vignettes from classic to contemporary in design. O&G's logistical coverage extends throughout the Northeast and beyond.
Navigate to O&G's website and social media pages where special offers, raffles, ideas, projects and the latest news are featured.