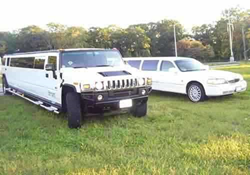 Bridgeport, Connecticut (PRWEB) March 19, 2014
Silver Star Limousine, a provider of high-end, luxury limo services throughout Connecticut, has today announced outstanding results from its recent appointment of Mr. Sam Miller as the company's manager.
"We're very excited about our growth and the changes Mr. Miller has enacted. He's a welcome addition to our team, and his focus on expanding our fleet as well as increasing emphasis on client needs and satisfaction has resulted in not only exponential growth for us, but also a far superior experience for our clients," said Mrs Serrano CEO of the company.
Silver Star Limo offers a broad range of limousine services for clients, including airport transportation, wedding, prom, corporate events and many more.
As part of the new fleet expansion program, a host of new luxury vehicles was added, including both Chrysler 300 and Lincoln MKS sedans, Lincoln and Chrysler stretch limousines in white and black, new Escalade, Excursion and Hummer limos as well.
In an effort to better serve clients throughout the state of Connecticut, the service area was expanded by adding both New Haven and Danbury to their growing list of locations. With these two additions, most towns and cities in Connecticut will be served, including Fairfield, New Haven, Litchfield, Hartford and Middlesex counties.
When asked about the new service areas, he answered, "We want to provide a reliable limo services to clients throughout Connecticut and the Tri-State area, and this move takes us one step further toward reaching that goal."
As manager, he has also focused on increasing client satisfaction in a myriad of ways, from better addressing client needs to ensure complete satisfaction with their experience, including a satisfaction guarantee.
Unlike competitors, we are increasing our ability to serve the needs of clients regardless of party or event size – from single travelers to entire wedding parties. Mr. Miller has also instituted highly specific safety regulations as a whole, including ongoing safety inspections for all vehicles, full maintenance and more.
From airport transportation to wedding parties, Silver Star Limousine offers courteous, professional and reliable limo service options. To find out more about all the vehicles in the fleet including the Escalade and Hummer limo visit http://www.silverstarlivery.com/limo_fleet.html
Silver Star Limousine was founded to provide an unparalleled level of luxury transportation. The company is dedicating to providing outstanding service, the utmost in comfort, and the highest safety standards in the industry. From their fully trained professional chauffeurs to the company's fleet of luxury limousines and executive cars. Corporate travelers, wedding parties and other clients will enjoy a unique experience.
Web Address: http://www.silverstarlivery.com
Toll Free: 866-635-8873
Or Call : 203-275-800