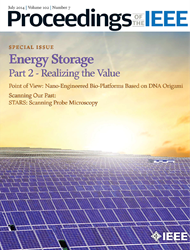 A two-part special issue on energy storage that covers batteries and electrochemical storage technology, battery management systems, and power electronics and power conversion systems.
Piscataway, N.J. (PRWEB) August 25, 2014
The importance of energy storage across the entire electricity infrastructure is growing rapidly, as are advances in energy storage. But just how effective are those advances? The most recent special issues of the flagship journal of IEEE, the Proceedings of the IEEE, explores and reviews the latest advances in electrochemical energy storage, battery management systems, power electronics for grid-scale energy storage applications, and market and regulatory challenges for the large scale deployment of energy storage.
The special issue is divided into two parts. Part I (vol. 102, no. 6) covers batteries and electrochemical storage technology, battery management systems, power electronics, and power conversion systems. Part II (vol. 102, no. 7) focuses on the integration of energy storage in the electricity market, market issues and strategic and regulatory challenges that accompany large-scale deployment.
In addition, the two issues explore the following:

Comprehensive reviews of lithium-ion batteries, lead-acid batteries, regenerative fuel cells and redox-flow battery systems
The complexities of business and regulatory aspects of energy storage
Business models for investments to deploy and operate energy storage systems
Alternative business models for energy storage
Valuable economic, performance and reliability information on storage
Case studies on energy storage
Three guest editors produced the June/July issues. Babu R. Chalamala (Fellow, IEEE) is a Fellow of the Technical Staff a SunEdison in St. Peters, Missouri, where he leads R&D and product development in grid-scale energy storage. Ralph D. Masiello (Fellow, IEEE) is the Director and Senior Vice President of KEMA Innovation. His personal focus in recent years has been the application of smart grid and electricity storage technologies to system operations and the integration of distributed resources into markets and operations. Ross Guttromson (Senior Member, IEEE) is Manager at the Electric Power Systems Research Department, Sandia National Laboratories in Albuquerque, New Mexico. Previously, he was at the Pacific Northwest National Laboratory in Richland, Washington, with managerial responsibilities in power grid systems.
About the Proceedings of the IEEE
Founded in 1912 and first published in early 1913, (originally as Proceedings of the IRE), Proceedings of the IEEE is the most highly cited general interest journal in electrical engineering and computer science. This journal provides the most in-depth tutorial and review coverage of the technical developments that shape our world, enlisting the help of guest editors and authors from the best research facilities, leading edge corporations and universities around the world. For more information on Proceedings of the IEEE and the latest ideas and innovative technologies, visit http://www.ieee.org/proceedings.
About IEEE
IEEE, the world's largest technical professional association, is dedicated to advancing technology for the benefit of humanity. Through its highly cited publications, conferences, technology standards and professional and educational activities, IEEE is the trusted voice on a wide variety of areas ranging from aerospace systems, computers and telecommunications to biomedical engineering, electric power and consumer electronics. Learn more at http://www.ieee.org.