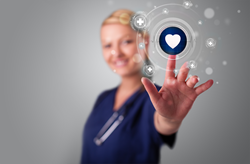 As a local company with strong relationships, we enjoy introducing qualified healthcare professionals to these unique environments.
Las Vegas, NV (PRWEB) July 04, 2014
Spectrum Accountable Care Company (Spectrum ACC), the Nevada staffing firm rapidly hiring qualified healthcare professionals, launched their new website today at http://www.spectrumplacements.com. The innovative graphic art gives physicians and healthcare practitioners a clear image reflecting the heart and soul of Spectrum ACC, with a focus to apply to one of their abundant opportunities in the unique facilities they service.
Spectrum ACC's staff works in institutions that range from acute care and rehabilitative hospitals, veterans administration, and mental health facilities, as well as Federal, state and county correctional institutions. "Our goal is to offer clients and candidates a matched placement experience with the onus on us for proper candidate screening, providing personalized service, and understanding our client's needs," said Brian Kaiserman of Spectrum ACC.
Professionals can work part time, per diem, or full time with guaranteed hours, while keeping a fixed schedule. "As a local company with strong contracts and relationships in correctional institutions as well as public and behavioral health agencies, we enjoy introducing qualified healthcare professionals to opportunities in these unique environments," Kaiserman added.
The rapid growth of Spectrum ACC's Las Vegas, Nevada, office with Registered Nurses, Nurse Practitioners, and Mental Health professionals has led to the opening of their second location in Reno, Nevada.
About Spectrum Accountable Care
Spectrum Accountable Care provides quality physicians and healthcare practitioners to private, correctional, community, and federal organizations.