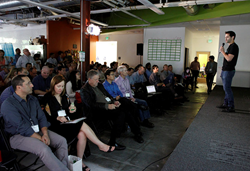 Palo Alto, CA (PRWEB) September 17, 2014
StartX, a nonprofit technology accelerator affiliated with Stanford University, revealed 12 companies raising rounds of funding at its Summer Demo Day yesterday. The event, attended by a few hundred investors and media, was the first such gathering held at StartX's new, 13,000 square foot headquarters located next to the university. The presentations were delivered on an expansive stage built by staff and volunteers, adjacent to StartX-QB3 Labs, a 2,000 square foot life science facility that opened last month.
The nonprofit also announced several updates about growth and development. Under a new roof, the summer session supported 73 entrepreneurs, including 10 women. It is the 12th and largest class in the history of the 5 year program. The companies, which overall entered the accelerator at more mature stages than previous cohorts, reported they had received $36 million in cumulative funding prior to joining and within the first month of StartX. Across the portfolio of 191 companies, StartX founders have raised $419 million. The Stanford-StartX Fund, which launched just a year ago, distributes on average, $1-2 million each month to StartX companies. To date, the fund has invested $22 million, contributing to 67 investments involving StartX companies.
The startups who presented and their (abbreviated) descriptions are listed below. One company requested a news embargo and has been omitted:

Sprayable Energy - The world's first topical caffeine spray to help people stay energized without sacrificing their health
2RedBeans- Dating site for the Chinese Diaspora
Nearpod - Mobile learning platform that helps teachers reimagine the way they do live instruction in the connected classroom
Gridspace - Software for preserving and analyzing voice communication
Dynaoptics - Brings real, optical zoom, inside your mobile phone without the bulky footprint
Tawkify - Brings the personalization of matchmaking to the masses
Badger - Sales productivity software on the iphone
Eko Devices - Automatically analyzes heart sounds from a physicians stethoscope using their smartphone
Chobolabs - Bringing competitive shooting to mobile
Picnic Health - Your medical records concierge
Score Beyond - Test preparation via mobile apps and expert tutoring through a real time communication platform
SPRAYABLE ENERGY (consumer, health)
Sprayable Energy is the world's first topical energy spray, which is revolutionizing the $40 billion energy products industry by allowing users to break free of the cycle of caffeine addiction and dependency while still getting the energy they need.
2REDBEANS (consumer, lifestyle, dating)
2RedBeans is undertaking the largest underserved online dating market in the world, the Chinese diaspora community. This is a $2B market and growing. We have achieved monumental success in the US and Canada and is currently the largest Chinese dating site catered to the diaspora community around the globe. We aim to not only help our customers find their mate, but also help change/shape the dating culture of traditional Chinese culture from passive to proactive.
NEARPOD (mobile device, edtech)
Nearpod is a mobile learning platform helping teachers reimagine the way they do live instruction in the connected classroom. K-12 schools worldwide are rapidly adopting 1:1 (one device per student) and BYOD (Bring Your Own Device) mobile programs, creating new opportunities for players in the $20B edtech and instructional materials market. Nearpod has developed technology that utilizes these devices to unite the classroom, rather than divide it, by allowing teachers to control their classroom, engage their students and assess their understanding in real-time. Teachers are using Nearpod to engage 1 million students per month, a number that is growing at four times year over year.
GRIDSPACE (consumer, enterprise, hardware)
Gridspace makes it easy to pull out knowledge from verbal business communication. Past knowledge management software put the burden on us to remember and document everything. Gridspace is different. It makes knowledge management automatic. The Gridspace founding team has experience building many exciting technical projects including the Mars Rover, Zappedy (acquired, now Groupon MerchantOS), OnLive, the first CAT system (Computer-Aided Transcription), Siri, AirSwimmers and the WiMax standard.
DYNAOPTICS (hardware, optical technology, consumer)
Mobile consumers are dissatisfied with the performance of digital zoom, the dominant form of zoom in phones today. Digital zoom results in pixelated photos and video. Dynaoptics's technology allows customers to achieve zoomed-in photographs, without loss in image quality and without increasing the size of the phone. Our patent-pending solutions enable slim optical zoom via micron-scale, lens movements 90 degrees to the optical axis.
TAWKIFY (consumer, lifestyle, dating)
Anyone who's ever suffered through a bad date can understand why Tawkify---the matchmaking and lifestyle company which is in two beta cities NYC and SF--- is growing 70% quarter over quarter and is cash flow positive. Tawkify is on a mission to become the Personal Concierge to America's (and the world's) romantic life. Tawkify was co-founded by Kenneth Shaw and E. Jean Carroll. Kenneth built a dating app which grew to 6 million users and E. Jean was a writer at Saturday Night Live and has 5 million readers with the longest, currently-running advice column in American Publishing----in Elle Magazine
BADGER (mobile, enterprise sales, mapping)
Badger is a software company focused on providing the tools and applications for sales reps to be more efficient and effective in the field. We enable sales teams to manage their territory by combining Google Maps, data from the CRM, schedule planning, route optimization, and lead generation on the sales person's mobile device. Badger Maps is the only mobile-first sales efficiency software for field sales people that is map-based, a much needed feature for people on-the-go. Badger was built in the back of a dentist office and initially sold to sales vendors who visited the office.
EKO DEVICES (medical device hardware, digital health)
Eko Devices has paired the oldest and the newest tools in the medical toolkit - the stethoscope and the smartphone – to help address two of the most pressing challenges of our time: $750 billion in annual healthcare waste and a cardiovascular disease crisis that affects 1 in 4 of the world population. Eko Devices has created an affordable smartphone-supported tool to revolutionize the way physicians monitor and detect cardiac conditions with their stethoscopes. Eko is an attachment for the analog stethoscope that allows a practitioner to amplify heart sounds and syncs to an accompanying smartphone application. Eko Devices will begin clinical pilots with Bay Area hospitals and expects to complete the FDA clearance process for Eko by the end of 2014.
CHOBOLABS (mobile, gaming)
Chobolabs is bringing competitive shooters to mobile. We are seeing hours of weekly engagement, something that many people think simply doesn't happen on mobile. Comprised of serial entrepreneurs, gaming veterans, and former pro-gamers, the Chobolabs team has previously worked on mobile games that went on to gross more than $100M in revenue.
PICNIC HEALTH (digital health)
PicnicHealth makes it incredibly easy for patients - especially those with cancer - to deal with their medical records. Patients simply give us their doctors names and from there we collect all of their information, organize it in a meaningful way, and take responsibility for keeping their doctors informed.
SCORE BEYOND (mobile, edtech, data)
We replace 1,000-page test prep books with mobile and tablet apps that are motivating, personalized, and impactful. Since Jan 2013, our flagship app SAT Up has helped 400,000 US kids prepare for the SATs. We are the most-reviewed, highest-rated, top-searched SAT app in App Store, and we are used by more than 9,000 schools across the nation. Every month, 1.5 million questions are answered by ~60,000 students, and the data collected on the student engagement helps our Learning Platform to deeply personalize the prep experience for the students. We are also expanding our platform with other tests (ACT, GMAT, GRE, AP) and international markets.
About StartX
StartX is a 501(c)(3) Stanford-affiliated nonprofit in Silicon Valley that runs one of the world's top startup accelerator programs. Our mission is to advance the development of the best entrepreneurs through experiential education and collective intelligence. Since 2009, we have supported more than 190 companies and 450 entrepreneurs across a wide spectrum of industries. StartX and StartX Med, dedicated to medical and biotechnology challenges, provides founders with access to a powerful network of entrepreneurs, investors, mentors, and industry partners, along with office space and a variety of other resources. We are supported by Stanford University, Stanford Health Care, Kauffman Foundation, Steelcase, Microsoft, Intuit, Blackstone Charitable Foundation, Greylock Partners, Draper Fisher Jurvetson, Sequoia Capital, Merck, Genentech, Johnson & Johnson, and many more. For more information, visit http://startx.stanford.edu.