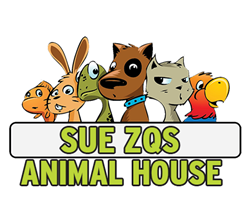 (PRWEB) February 21, 2014
Sue and Bruce Porter are excited to announce the creation and launch of their new website venture, http://www.SueZQsAnimalHouse.com. The website offers a broad assortment of houses for animals including dog houses, cat houses, chicken houses, and rabbit hutches. The Porters live on a farm and have two dogs that are like family, so they know quite a bit about caring for animals, which is something that inspired them to launch this website. They hoped to create a site where like-minded individuals would be able to find products for their beloved animal companions that would keep them safe, comfortable, and sheltered.
There are many excellent products featured within the merchandise of SueZQsAnimalHouse.com. The chicken houses are very nice and very easy to clean out; chickens are able to get out of the house and get outside on the ground but still be under cover so hawks can't get them and eat them. The rabbit hutches are also very high quality and can be used outside to keep rabbits safe and under cover. The Porters know that animals become a part of the family, which is why it is important to give them quality shelter so that they can stay safe.
In the future, the Porters plan to further expand the product lines available on SueZQsAnimalHouse.com. They hope to add a plethora of additional pet products such as crates, ramps, treadmills, training collars, and pet carriers that can be taken on the plane, as well as additional types of cages and houses such as hamster cages and cages for other small animals. By periodically updating the site's merchandise, the Porters hope to encourage customers to keep coming back to the website to check out what new items have been added.
To complement the main website, the Porters are also launching a blog located at http://www.SueZQsAnimalBlog.com. The blog will feature topics related to how having animals can be good for a person and the ways that people and animals can make each other feel good. There will also be supplementary information regarding the products featured prominently in the online store, so that the blog can help guide customers towards making informed decisions when purchasing products from the website.
About the Company:
SueZQsAnimalHouse.com -- a division of Shep's Shops, LLC -- is owned and operated by Web entrepreneurs Sue and Bruce Porter.
****
Sue and Bruce Porter
http://www.SueZQsAnimalHouse.com
(856) 453-8243
iePlexus, Inc.
http://www.iePlexus.com