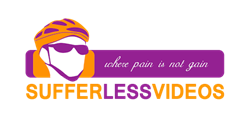 My training doesn't need to punish me the way I used to, and so we decided to produce videos that can help the beginner, intermediate and endurance oriented rider to enjoy their training and still get better." Said Coach Gino
Pittsburgh, PA (PRWEB) December 16, 2014
While the high intensity trend has both university studies to support it, as well as professional coaches and athletes to fuel its fire, it just may not be for everyone. Unless one is a competitive athlete, or the type that feels the more punishment inflicted, the better the workout, this type of training may not be sustainable beyond a few token attempts, or of course to the knights of Sufferlandria.
Indoor cycling or Spinning® classes have grown by leaps and bounds in the last few years. Until recently, this has been in a dark room with just music, or in a light room with a drill seargent yelling at the class to go harder. With the advancements of the smart phone and the increasing mobility of society, video training resources have begun to diversify to help guide so many different types of indoor riders on their virtual journeys.
However, the most popular approaches have typically been the most intense, falling into the HIT category of training. However, with more and more baby boomers discovering the health benefits and adrenaline rush of cycling, there is a new breed of client riding both indoors and out. This is essentially what led to the launch of SufferLESS Videos; an approach to riding that is neither high intensity nor interval oriented.
"I used to race mountain bikes, and I had to do some pretty intense workouts to stay competitive. David McQuillen has done a great job with his Sufferfest series, and I've ridden my fair share of those interval rides, but I've moved away from racing now, and my priorities have shifted to more destination or purpose driven rides. While some of these new goals are still quite challenging, I'm able to more focus on efficiency and comfort on the bike rather than pure speed. My training doesn't need to punish me the way it used to, and so we decided to produce videos that can help the beginner, intermediate and endurance oriented rider to enjoy their training and still get better," said Coach Gino (Gene Nacey), CCO of SufferLess Videos.
The SufferLess Videos website contains videos that are not showing racing or cyclists in a room competing for the biggest bucket of sweat. These are vacation rides through premier destinations like Italy, France, Spain and each of the islands of Hawaii. These rides do focus on training and becoming a better rider, and in fact there is a lot of climbing on these videos, but they are not coached as HIT efforts. These are focused on getting stronger or better so that the next cycling vacation can be ridden with bigger smiles over longer miles.
"The bottom line for anyone who improves their riding performance or fitness is what are you going to do with those gains. I tell my students you can either use that improved fitness to go faster (and keep pushing themselves at the same intensity level) or they can decide to suffer less, going at roughly the same speed, but now enjoying their new strength and fitness. Basically it hurts less when we get in shape," said Coach Gino.
In addition, the new website offers the user the ability to build their own rides by selecting video segments categorized by riding terrain and/or length of time.