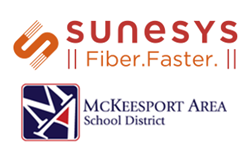 We continue to push the envelope in technology at McKeesport through initiatives like our Technology Center; an initiative which further thrives through a private, high-speed broadband solution.
Warrington, PA (PRWEB) June 02, 2014
Sunesys, LLC, a premier provider of Ethernet and private wavelength networks, dark fiber and Internet services, completes 1Gbps managed private Ethernet network to connect seven locations for McKeesport Area School District in Pittsburgh, Pennsylvania.
The Sunesys wide area network will provide key connectivity for McKeesport district to accommodate several 21st century learning technologies including videoconferencing, online assessment and BYOD. As well, the 1Gig managed service allows the district to meet forthcoming regulations around the SETDA and PARCC guidelines for internal WAN connections.
"We are excited to continue our southwestern PA network now servicing over 110 school districts and intermediate units in Pennsylvania," states Sunesys Vice President, Alan Katz. "We continue to be a provider at the forefront of the education marketplace, capturing additional connectivity to bring school districts increased learning opportunities and a resilient network solution that is secure, reliable."
The point-to-point one-gigabit network is a private E-rate eligible solution connecting six remote locations to the McKeesport hub site located on O'Neill Boulevard in southwestern PA. In addition to the new WAN connection, the district is also connected via a prior-installed Sunesys fiber network to the Allegheny Intermediate Unit.
"The newly engineered WAN allows our district to achieve the bandwidth capacity necessary to provide best-in-class education to our students, staff and administration," iterates Jane Coughenour, Director of Technology & Student Support Services at McKeesport Area SD. "We continue to push the envelope in technology at McKeesport through initiatives like our Technology Center, providing quality career and technical education programs to 10th, 11th, and 12th grade students of all ability levels; an initiative which further thrives through a private, high-speed broadband solution. And, with E-rate eligibility, the network is not only reliable and secure, but also affordable."
Sunesys, headquartered in Pennsylvania, currently operates over 9,000 fiber route miles in ten states across the country. Sunesys' entire footprint can be viewed online at http://www.sunesys.com/network-maps/ or by downloading the Sunesys App, available for iPhone and Android devices.
About Sunesys, LLC
Sunesys is a leading provider of premium bandwidth services and private fiber optic networks. We own, operate, and maintain our own high density fiber optic network in major metropolitan areas across the U.S. Sunesys offers a comprehensive suite of tailored, high capacity, facilities-based network services coupled with superior industry expertise, service, and support. Sunesys provides telecommunications services and private fiber optic networks in Pennsylvania, New Jersey, New York, Maryland, Delaware, Virginia, Ohio, Illinois, Georgia, Florida and California.
Sunesys is a subsidiary of Quanta Services, Inc. (NYSE: PWR). Quanta Services safely provides engineering, procurement and construction (EPC) services for comprehensive infrastructure needs in the electric power and oil and natural gas industries and is the premier provider in the industries it serves.
For more information or to be contacted about Sunesys services, please visit http://www.sunesys.com.
About McKeesport Area School District
McKeesport Area School District serves the communities of Dravosburg, McKeesport, South Versailles, Versailles and White Oak. The total enrollment is approximately 3,500 students in grades K-12.The vision of the McKeesport Area School District is to create a learning environment which provides students an opportunity to maximize their potential and achieve success.
We actively engage all students in a rigorous curriculum that teaches the application of academic skills and concepts; nurtures individual interests and talents; inspires intellectual curiosity; develops integrity and personal responsibility; encourages a global perspective; promotes technology; embraces diversity; and prepares students to become citizens capable of improving the world in which they live.
Through a partnership with the citizens of the district's municipalities, board of school directors, local businesses and organizations and nearby higher education facilities, MASD provides a comprehensive, quality educational program that excels in meeting the needs of the district's youth.