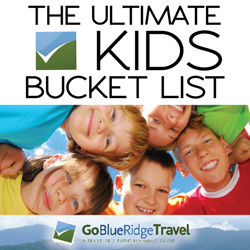 Winchester, Virginia (PRWEB) September 30, 2014
For the second year in a row, Go Blue Ridge Travel's Shenandoah Valley Kids Trail(SVKT) has been awarded a grant from Virginia Tourism. This year the partnership received the highest grant award possible. "The $50,000 in additional funding will be a real boost to the Shenandoah Valley Kids Trail's marketing campaign," said Nancy Craun, founder and owner of Go Blue Ridge Travel (GoBRT). "Receiving this award also gives creditability to the efforts of the SVKT partnership. The average award was $18,000. We were thrilled to receive $25,000 last year so this year's $50,000 is quite an achievement. This was truly a group effort of nine partners and GoBRT putting their money on the table for a cause they believed in. These partners leveraged $150,000 of their marketing budgets to receive this award."
SVKT partners are:

Great Country Farms
Harpers Ferry Adventure Center
Shenandoah Valley Discovery Museum
The Family Drive In Theater
Shenandoah Caverns Family Attractions
Bryce Resort
Massanutten Resort
Visit Shenandoah County
Harrisonburg Visitor and Tourism Center.
Trip planning is difficult for visitors who are unfamiliar an area. Using the database of Go Blue Ridge Travel, the Shenandoah Kids Trail gives families Internet tools to easily find kid friendly experiences and attractions in the northern Piedmont and Shenandoah Valley. The kids trail highlights a bucket list of experiences that every child should have done before they turn eighteen. "What is unique about the trail is that is it not just about attractions. The emphasis is on providing educational fun experiences for young people who live or are visiting this area," said Craun. "Building the connective "hub and spoke" itinerary will facilitate family travel while leveraging the relationship of tourism partner."
"With this grant, the partnership is going to focus on both the traditional markets of northern Virginia and the DC-Baltimore Metropolitan area. We are also going to reach out to our backdoor neighbors like Richmond, Roanoke, and Coastal Virginia. A new market will be Central Pennsylvania," said Kate Zurschmeide, lead partner and co-owner of Great Country Farms.
This October, Virginia Tourism is sponsoring a tour of national family travel writers to spend four days visiting the Valley and the Kids Trail. From lunch at a U-Pick farm and sharing the experiences of 300 school children at Great Country Farms to a night at Family Drive In Theater to a hike in the Shenandoah National Park, mommy bloggers and national travel writers like New York Family Travel Forum will celebrate what it is like to be a kid here in the valley.
"These grants equip local tourism businesses with the tools they need to stay competitive," said Governor McAuliffe. "The Marketing Leverage Program grants help support and grow a robust and diversified New Virginia Economy and encourage strategic marketing of tourism products and businesses across the Commonwealth, generating revenue and jobs."
"The grants are supporting businesses across the Commonwealth, contributing to the overall economic health of our communities," said Maurice Jones, Secretary of Commerce and Trade. "The state's investment maximizes local marketing funds, allowing for localities to double and sometimes triple their marketing power to attract more visitors. This is a powerful tool for small businesses across the state."
"We were thrilled when Nancy approached us with the idea for the Shenandoah Valley Kids Trail. For as long as I can remember, visitors would ask what there is to do for families in the Shenandoah Valley. The Shenandoah Valley Kids Trail gives us one central destination for families to go to when planning their trip to the valley. Since visitors don't know boundaries of jurisdictions, the Kids Trail united the region and it simplified the planning experience for the visitor," said Jenna French, Shenandoah County Tourism Director.
Brenda Black, Tourism and Services Manager of Visit Harrisonburg said, "As Harrisonburg looks to connect visitors to children's related activities the Shenandoah Valley Kid's Trail provides the opportunity to partner with other kid friendly businesses in the Shenandoah Valley and Loudoun County. This family friendly theme will enable itinerary development and packages on Virginia.org and in advertising campaigns; creating a media buzz that will reiterate the message that our region is a family friendly destination in Virginia."