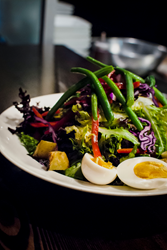 Visitors to Sea to Sky Country will find unforgettable culinary adventures.
Vancouver, British Columbia (PRWEB) November 30, 2014
From one of the region's original craft breweries in Squamish, fine dining in Whistler, the bountiful farming community of Pemberton, and the home of one of the best burgers in the province, visitors to Sea to Sky Country will find unforgettable culinary adventures. "A Taste of Sea to Sky Country" is a self-guided tour that allows visitors to travel through the mountains of Sea to Sky Country while sampling extraordinary cuisine along the way. Here is just a taste of what foodies will find along Highway 99 north of Vancouver.
1. Howe Sound Brewing - As pioneers of the craft beer renaissance way back in 1996, Howe Sound Brewery has evolved to become the yard stick by which all other craft breweries are measured. With a wide array of award winning ales, the best brewpub in the province, and top notch accommodations to boot, a trip to Howe Sound Brewery is an immersive experience that goes far beyond the barley and hops. Beer lovers can take a tour of the brewery, enjoy one of the brewpub's ale-infused recipes, or simple relax and take a seat on the patio while admiring the picturesque views of the surrounding mountains.
2. Whistler Tasting Tour – Whistler Tasting Tours is the easiest way to explore Whistler's food scene. Each tour includes anywhere between four and seven stops giving guests the opportunity to experience the best Whistler restaurants in one night. Enjoy a variety of fantastic West Coast creations with the option of pairing them with some of British Columbia's finest wines.
3. Pemberton Farmers Market - As one of the premier farming communities in the province, it's only fitting that Spud Valley should have a farmer's market worthy of the name. The Pemberton Farmers Market features the freshest fruits, vegetables, meats and seed potatoes (naturally) that this incredibly fertile valley has to offer. Every Wednesday from mid-June through to October local farmers get together showcasing the best that their crops have yielded.
4. North Arm Farm - Strawberries, raspberries and blueberries are just some of the delicious highlights in a full selection of seasonally available fruits and vegetables at this 24-hectare (60-acre) organic farm in Pemberton. Take a stroll around the farm and get a better glimpse, what's being grown and visit the farm animals including sheep, pigs and chickens.
5. Mile One Eating House - The locally owned and operated Mile One Eating House offers the perfect setting to experience the Pemberton Valley's thriving food scene and swap stories of adventure over a pint of craft beer or a glass of award-winning BC wine. Foodies come from far and wide to get a taste of Mile One's signature dishes including the Gourmet Mac n' Cheese and the all-natural Pemberton Meadows Natural Beef Burger Collection served with their legendary Yukon Gold potato wedges.
For more tips on planning a decadent foodie adventure in Vancouver, Coast & Mountains visit the region's travel inspiration website – 604pulse.com.
604Pulse.com is the official blog of the Vancouver, Coast & Mountains Tourism Region and is dedicated to exploring all the things to see and do in the region to share with visitors. This fall we're featuring a number of culinary inspired itineraries that will help you plan your next foodie adventure.
About Vancouver, Coast & Mountains: Vancouver, Coast & Mountains, one of six tourism regions of Super, Natural British Columbia, includes four destination areas: Metro Vancouver, Sea to Sky Country, Mighty Fraser Country, and the Sunshine Coast. This non-profit society is governed by a private sector board of directors who represent business and community tourism interests from throughout the region. VCMBC works with Tourism British Columbia to utilize their combined resources and provide greater benefits to the provincial tourism industry through an integrated web presence. For more information about Vancouver, Coast & Mountains visit our website or call 604-739-9011.