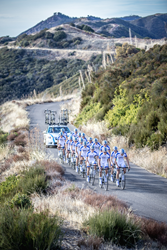 "As we look to 2015, our goal is to garner more results on the road while continuing to inspire, educate and empower people around the world affected by diabetes."
Atlanta, Ga. (PRWEB) October 29, 2014
Team Novo Nordisk, the world's first all-diabetes professional cycling team, will return for its third season with a roster of 18 athletes from 11 countries, including four members of the team's development program. Riders James Glasspool (AUS), Corentin Cherhal (FRA), Simon Strobel, MD (GER) and Gerd de Keijzer (NED) will move up to the men's professional squad in 2015.
"After just two years, the investment in our junior and development teams is beginning to pay off and we couldn't be happier to welcome four riders from within our program to the professional ranks," said Team Novo Nordisk CEO and co-founder Phil Southerland. "As we look to 2015, our goal is to garner more results on the road while continuing to inspire, educate and empower people around the world affected by diabetes."
In order to become a member of Team Novo Nordisk, an athlete must have diabetes. Since its launch in December 2012, the organization has focused heavily on identifying and developing endurance athletes from around the world with diabetes, building junior and development squads totaling 22 athletes.
"The promotion of these four riders to our professional team underscores the strength of our talent identification and development programs," Team Novo Nordisk General Manager Vassili Davidenko said. "Unlike every other team, we have a much smaller pool of athletes to recruit from and it is vitally important to foster our own talent in order to achieve our goals for this program. We're very happy to see the progress of our young athletes and we are hopeful the results continue in the pro ranks."
The four development riders who are moving up to the professional team achieved top results while riding with Team Novo Nordisk. In 2014, Glasspool earned 10 top-ten finishes, including first at the Georgia Cycling Grand Prix Road Race and the Georgia State Championships Weekend Criterium. Strobel, who juggled medical school while racing and received his Ph. D. in 2013, also earned a podium finish at the Georgia State Championships Weekend Criterium. Cherhal took his first career win on Stage 5 of the Crossroads Classic this year, while de Keijzer finished top 10 at four races in 2014, including third at the Georgia State Road Race Championships.
This season, the Team Novo Nordisk men's professional squad competed in 53 races around the world, resulting in 19 top-10 finishes and five podium finishes, including Belgian Kevin De Mesmaeker's third place finish on stage 4 of the Amgen Tour of California. This November, the professional team will meet in Cozumel, Mexico for the first of two training camps to prepare for the upcoming season.
The full 2015 roster includes:
Andrea Peron – ITA
Ben Dilley – USA
Charles Planet – FRA
Chris Williams – AUS
Corentin Cherhal - FRA
David Lozano – ESP
Gerd de Keijzer - NED
James Glasspool - AUS
Javier Megias – ESP
Joonas Henttala – FIN
Kevin De Mesmaeker – BEL
Martijn Verschoor – NED
Nicolas Lefrancois – FRA
Ruud Cremers – NED
Scott Ambrose – NZL
Simon Strobel, MD – GER
Stephen Clancy – IRL
Thomas Raeymaekers – BEL
About Team Novo Nordisk
Team Novo Nordisk is a global all-diabetes sports team of cyclists, triathletes and runners, spearheaded by the world's first all-diabetes UCI Professional Continental cycling team. The team's mission is to inspire, educate and empower those affected by diabetes.