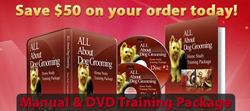 Learn to Groom dog grooming training is now available with a special $50 summer discount at www.learntogroom.com.
Jacksonville, Florida (PRWEB) June 17, 2014
With summer in full swing it's time to start thinking about Fido and his warm winter coat that makes these hot summer days unbearable. Taking a dog to the groomer can get expensive, which is why many people have decided to take Learn to Groom's home dog grooming classes. Learn to Groom is currently offering a special summer discount of $50 off their dog grooming training when ordered online at http://www.learntogroom.com.
The Learn to Groom course is composed of eight hours of video instruction and a comprehensive training manual that covers dog grooming from A to Z and even includes chapter tests to enhance the learning experience. At the end of the course participants receive a certificate of completion and the course also comes with the invaluable resource of Learn to Grooms toll-free hotline enabling users to call a Learn to Groom expert for unlimited consultations and questions as needed.
A dog groomer class is an easy way for animal-friendly entrepreneurs to turn a love of dogs into a career and Learn To Groom is without a doubt one of the quickest and most user-friendly ways to start a new grooming business. The low costs and high profit margins of a dog grooming business makes it a very attractive home enterprise, especially when coupled with the fact that a dog groomer can work from practically anywhere and be surrounded by potential clients.
To take advantage of the Learn to Groom summer discount and get started on a dog grooming future, simply log on to their website at http://www.learntogroom.com or give them a call directly at (888) 800-1027.