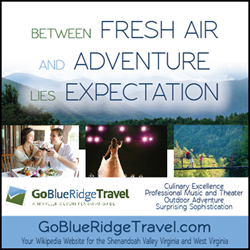 Surprising Sophistication is The New Shenandoah Valley!
Winchester, Virginia (PRWEB) July 01, 2014
The surprising sophistication of professional theater and music now available in the Blue Ridge Mountain region of the Piedmont and Shenandoah Valley offers the visitor a great opportunity to combine a scenic road trip with the performing arts. One fun thing to do is just pick a road route like 55 or 42 or 11 or 33 or 340 and develop a trip around music and theater. Go Blue Ridge Travel offers hotels, bed and breakfasts, cabins, and vacation rentals. The summer offers the opportunity to enjoy the long daylight hours cruising on two lane picturesque back roads. Here are Go Blue Ridge Travel's Top Picks –
#1 SUMMER JAM – Massanutten Resort is on Route 33 outside of Harrisonburg, Virginia in the middle of a mountain range. Not only will one enjoy being in the mountains but one will also be treated to a wonderful family festival celebrating music, food, and fun kid activities. The event starts at 5:30 on Thursday July 3rd and includes fireworks and great Live Music. Bands featured will be JunkFood, Cazhmiere, and Travelin' Hillbillies.
#2 BRYCE FEST - Another great Independence Day celebration is Bryce Fest celebrating its 15th year. Bryce Resort is twenty minutes back into the mountains in the small village of Basye, Virginia off of Interstate 81. Surrounded by vacation homes, this is a FREE festival, featuring all of the food, fun and fireworks of years past and providing some exciting new activities for the whole family to enjoy! During BryceFest 2014, many of Bryce's other summer activities will be operating throughout the day including the brand new Bryce Mountain Bike Park!
#3 SHENANDOAH SUMMER MUSIC FESTIVAL - Located at the crest of the North Mountain in Orkney Spring, Virginia, this music festival is the oldest outdoor music festival in the valley celebrating over 50 years. Kick back with a picnic under the stars to hear blazing bluegrass licks, great gospel tunes, classic country songs, stunning symphonic melodies and more at the Shenandoah Valley Music Festival. Check out the performers from Rosanne Cash to the Fairfax Symphony 's "A Civil War Portrait" and more.
#4 SHENANDOAH SUMMER JAMBOREE - The newest music festival at Shenandoah Caverns, the Jamboree opens in March and runs thru November. This is an indoor concert at The Yellow Barn on the first Saturday of each month. The Shenandoah Jamboree is part of three attractions at Shenandoah Caverns located off of Interstate 81 between Mt Jackson and New Market, Virginia.
#5 SMALL TOWN CONCERT SERIES - Many of the small towns of the valley offer free music concerts. One of the most famous is the Bluemont Concert Series. Covering eight towns in Virginia, the GoBRT has these outdoor concerts in Leesburg, Middleburg, and Winchester. Since 1976, the Bluemont Concert Series has presented more than 5,000 high-quality events to a combined audience of more than 2 million. Check out the schedule that works for your road trip. Another is the Woodstock ROCS (Riley Outdoor Concert Series). Four musical events will occur from July to September. Woodstock is in Shenandoah County and represents small town USA.
Professional theatre and top films are not limited to metropolitan areas. Below is Go Blue Ridge Travel's top five theatre picks.
#6 SHENANDOAH SUMMER MUSIC THEATRE - Shenandoah Summer Music Theatre (SSMT) is going into its 31st season this summer.  The season begins in June and ends the first week of August. Four Broadway musicals are produced and performed in the beautiful 630-seat Ohrstrom-Bryant Theatre on the campus of Shenandoah University in Winchester, VA. Thirteen performances are given of each musical over a two-week period. A professional theatre experience, this season includes Man of La Mancha, Monty Python's Spamalot, The King and I, and Mary Poppins.  
#7 Family Drive In Theater- An experience all its own, the family drive in theater steps back in times to the 50's, 60's, and 70's when drive in theaters were the rage. Using the same speakers and outdoor screens of yesteryear but showing today's latest movies, today's experience finds cars backing in to one's space opening their tailgates and spreading the chairs and blankets out for a fun night of theatre under the stars. Family Drive In is located in Stephens City, Virginia just off of Interstate 81.
#8 Contemporary American Theater Festival- Opening July 11th and runs thru August 11th, CATF has a commitment to new playwright work. The New York Times describes it as an "Adventurous Festival". Located in Shepherdstown, West Virginia at Shepherd University, this 24th Season features five contemporary themed plays to included "A Discourse on the Wonders of the Invisible World." This is an adult theater experience covering today's moral and political issues.
#9 THE AMERICAN SHAKESPEARE CENTER - Located in Staunton, Virginia, The American Shakespeare Center is featuring three plays – Macbeth, Cyrano de Bergerac, and The Comedy of Errors. By following the basic principles of Renaissance theatrical production, the American Shakespeare Center gives its audiences some of the pleasures that an Elizabethan playgoer would have enjoyed. The Town of Staunton is a great road trip offering.
#10 –Courthouse Square Theater - The Courthouse Square Theater of Harrisonburg, Virginia was once the home of the Rockingham Motor Company (RMC), but in 1998, the RMC was renovated into a theater as part of the Harrisonburg downtown revitalization effort. Performances vary so check the schedule.
So if music or theater is one's passion, then a road trip to the Virginia's Blue Ridge Mountains will not disappoint!
About GoBlueRidgeTravel.com
In 2011, GoBlueRidgeTravel.com (GoBRT), a division of Encore Event Partners was launched to be a travel getaway guide for trip planning in Virginia, West Virginia, and Maryland. GoBRT is the only Tri-State regional website showcasing the activities, events, and accommodations in the Blue Ridge Mountains, The Piedmont, and Shenandoah Valley. With a ten year relationship of marketing the region to brides for their wedding destinations, GoBRT is now reaching out to families branding the trademark 'GoBRT's Kids Bucket List' showcasing the experiences tots to teens should have prior to turning eighteen in the valley. In July 2013, Go Blue Ridge Travel with eight Virginia partners received a Marketing Leveraging Grant from Virginia Tourism to develop a mobi website, Shenandoah Valley Kids Trail, with the target market being families. Expanding to Natural Bridge in 2014, Go Blue Ridge Travel's goal is to brand this 160 mile radius as a travel and wedding destination both nationally and internationally.
Contact: Nancy Craun Founder and President GoBlueRidgeTravel.com Phone: 540.533.1853 Email: info(at)GoBlueRidgeTravel(dot)com