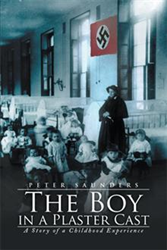 (PRWEB) July 29, 2014
UNITED KINGDOM – "The Boy in a Plaster Cast" follows a German boy who was incarcerated in a plaster cast from foot to chest for nearly two years. His experiences both in a German hospital and subsequently in two British Military Hospitals propel a unique tale about a child's suffering at the end of World War II.
At the end of World War II, the German people suffered another major catastrophe in terms of economic disaster which befell them. This story tells of the damage done to one particular family both during and after the war. This book unravels a four-year-old boy who had the misfortune to contract tuberculosis in his hip joint and caused him to be incarcerated in a hospital which was run by nursing staff who had very little sympathy for the children in their charge. The subsequent marriage of his widowed mother to a British soldier had a considerable impact on the quality of his life.
With wars raging in the Middle East, the suffering of children and their families as a consequence of conflicts between nations is still relevant today. "The Boy in a Plaster Cast" also covers the plight of an average working class family who were caught up with the terrible consequences of the Nazi's seizing power in Germany.
For more information on this book, interested parties may log on to http://www.XlibrisPublishing.co.uk
About the Author
Peter Saunders, formerly known as Peter Heiz, was born in Germany in December 1940. His experiences as a child brought up in post-war Germany encouraged him to write this book. Saunders first came to England when he was ten years old. He passed his eleven plus examination before returning to Germany as a result of his stepfather (George Saunders) being posted to the REME unit near Herford. He then attended a military boarding school in Wilhelmshaven.
The family returned to England when he was 15 years old. He continued his education at Huish's Grammar School in Taunton. He studied pharmacy at Plymouth and was employed by a major pharmaceutical company for 32 years before setting up a nursing home company. He was an elected district councillor for twelve years and a local parish councillor for 18 years.
The Boy in a Plaster Cast* by Peter Saunders
A Story of a Childhood Experience
Publication Date: January 10, 2014
Trade Paperback; $21.35; 110 pages; 9781493139439
Trade Hardback; $36.61; 110 pages; 9781493139422
e-book; $6.09; 9781493139446
Members of the media who wish to review this book may request a complimentary paperback copy by contacting Xlibris Marketing Services at 800-056-3182.