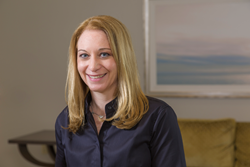 We are honored that Dr. Lazarus has joined our staff,
New Orleans, Louisiana (PRWEB) July 10, 2014
Doctors Frank DellaCroce and Scott Sullivan, founders of the Center for Restorative Breast Surgery (CRBS) and the St. Charles Surgical Hospital (SCSH) in New Orleans, are pleased to announce that board certified general surgeon Dr. Laura Lazarus has joined their highly skilled group of surgeons. Lazarus, together with breast surgical oncologist Dr. Alan Stolier, will work with the team of reconstructive surgeons including Dr. DellaCroce, Dr. Sullivan, Dr. Christopher Trahan, Dr. Whitten Wise and Dr. Craig Blum. Her expertise in the arena of BRCA risk reduction procedures and nipple sparing mastectomy further enhance the progress of the groundbreaking and pioneering work in breast cancer reconstruction that the facility is known for around the world. Dr. Lazarus graduated with a B.S. in Biopsychology from Tufts University in Medford, Massachusetts and received her Medical Degree at Hahnemann University School of Medicine in Philadelphia. She completed her residency in general surgery at LSU Medical Center in New Orleans, followed by a fellowship in breast surgery at Northwestern University Medical School, Lynn Sage Breast Center in Chicago, and most recently worked as a breast surgeon at Greenwich Hospital in Connecticut.
Dr. Lazarus is a highly lauded breast surgical oncologist. She was named a Top Doctor in the New York Metro area for three consecutive years, 2012 – 2014, and received the Patient's Choice Award in 2008 - 2009. "We are honored that Dr. Lazarus has joined our staff," states Dr. DellaCroce. "As advances in the surgical treatment of breast cancer and those at high risk for the future development of breast cancer change, Dr. Lazarus' extensive experience will serve our patients well." Prior to her time in the Northeast, Dr. Lazarus was a breast surgeon at Memorial Medical Center in New Orleans and received a grant from the Susan G. Komen Foundation for the development of a breast center for the underserved women of Louisiana and served as an Associate Professor of Surgery and Director of the Breast Center at the Medical Center of Louisiana. While in New Orleans, she was also a member of the Oncology Committee and the Chairperson of the Oncology Quality & Performance Improvement Sub-committee at Memorial Medical Center. In 2003, she received the Professional Recognition Award presented by American Cancer Society, Louisiana for "Outstanding Physician in the Practice of Oncology."
Dr. Lazarus is a fellow of the American College of Surgeons, a member and Mastery Participant in the American Society of Breast Surgeons and a SWOG affiliate member. She has served on the Oncology Committee at Greenwich Hospital for the past eight years; was recently nominated for the Greenwich Hospital Quality Award for exceptional contributions to service excellence; and received the Northeast Medical Group Award of Excellence for integrity, patient-centered, respect, accountability and compassion. Before returning to Louisiana, Dr. Lazarus was a member of the Greenwich Medical Society.
HOSPITAL SERVICE INFORMATION: Founded by Frank J. DellaCroce, M.D. and Scott K. Sullivan, M.D., of the Center for Restorative Breast Surgery, St. Charles Surgical Hospital is a full-service, patient-centered hospital that provides a variety of highly specialized surgical services to its patients and is the world leader in breast reconstructive surgery, developing and performing all revolutionary breast reconstruction techniques. The hospital is located at 1717 St. Charles Avenue, New Orleans, Louisiana 70130. For more information, please visit http://www.scsh.com or call 504-529-6600.
Emergency Department services are not provided at this facility.