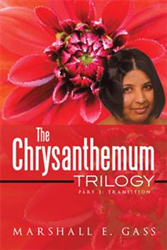 Auckland, New Zealand (PRWEB) June 23, 2014
The concept of "The Chrysanthemum Trilogy" came to author Marshall E. Gass five years ago. Gass was looking for a more productive and interesting career where his writing skills could be used. The trilogy was originally a piece of idea, which has now developed into a series of novels spanning 80 years and four generations of a family. In "The Chrysanthemum Trilogy," readers are immersed in the story of a family as it struggles to bounce back from a series of misfortunes.
Set in New Zealand, "The Chrysanthemum Trilogy" narrates the story of a family dynasty that undergoes a series of internal strife and management. After migrating to Opito Bay, Coromandel Peninsula, the family's one and only son begins a small business which eventually expands and grows into a valuable global empire. His first child is a mentally unstable boy but an illegitimate daughter joins the business and regenerates its flagging fortunes and turns it back to its former glory. The son born to the new chief executive eventually takes over the empire through disturbingly devious means. As the story ensues, the new CEO discovers troubling details of what they have inherited.
"The Chrysanthemum Trilogy" is a stirring work that primarily features the bond shared by families and how they stay together in spite of the difficulties they face. It also touches on the assimilation of cultures to make the reader understand how enculturation takes place and how immigrants influence the host culture. A colonial attitude is apparent all throughout the book, manifested by a society which is not yet in full understanding of the importance of immigrants.
As the novel unravels in a casual, dramatic fashion, several twists and turns will cause the reader to be fully engaged in the plot and eventually look forward to how each character becomes embroiled in the unfolding events.
For more information, log on to Xlibris.co.nz.
About the Author
Marshall E Gass has a long history of writing fiction and non-fiction. "The Chrysanthemum Trilogy" is his breakthrough novel. Gass lives in Manukau City, Auckland, New Zealand.
The Chrysanthemum Trilogy * by Marshall E Gass
Part 1: Transition
Publication Date: April 7, 2014
Trade Paperback; $34.99; 314 pages; 9781493137848
Trade Hardback; $54.99; 314 pages; 9781493137831
e-book; $4.28; 9781493137855
Members of the media who wish to review this book may request a complimentary paperback copy by contacting the publisher at 0800-443-678. To purchase copies of the book for resale, please fax Xlibris at (09) 353-1455 or call 0800-443-678.
For more information, contact Xlibris at 0800-443-678 or on the web at Xlibris.co.nz.