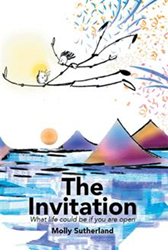 It is possible to live abundant and fruitful lives if we choose to do things God's way.
United Kingdom (PRWEB) July 15, 2014
"Today's society is lost in a whirl of information and many people are dissatisfied with humdrum existence or battered by depression and fears. It is easy to settle for less in life by simply not knowing what we are being offered," says author Molly Sutherland. "This is the reason I wrote The Invitation: to spell out what God is offering us all. There is so much more to living an abundant life, but will we realize it and choose to accept The Invitation?"
This book is written in simple, conversational language, often addressing the reader directly. The first two chapters have bite-sized chunks of text interspersed with excellent illustrations that capture the reader's imagination and help them grasp the ideas communicated. The author tells her own story in another chapter, and adds stories from people who genuinely became aware of the reality of God in their lives. While the presentation is simple, the concepts are deep and challenge the reader to a genuine and fresh way of living. Molly Sutherland longs for the reader to discover that there is more to life for them, and that they might desire to check it out for themselves — to respond to "The Invitation" and find a new and fulfilling way of living, hand in glove with the God of love.
"The Invitation" has evolved out of the author's ministry, having taught classes for over twenty years to give people a new perspective on how to live life. Thousands of people from all walks of life have been changed for the better. Many have reported feeling lighter, brighter and more fulfilled. Molly Sutherland wrote this book to reach more people with the same message. It is possible to live abundant and fruitful lives if we choose to do things God's way.
For more information on this book, interested parties may log on to XlibrisPublishing.co.uk.
About the Author
Molly Sutherland was born in 1927 in India to British parents. After the death of her father, she returned to the UK when she was still a baby and was raised by her grandparents in Wales. She entered a Catholic convent that specialized in tending to the sick in city slums. After receiving nursing training she was led out of the convent, married and had four children. She then trained as a teacher and worked as head teacher of a Franciscan primary school for 12 years. Molly Sutherland took early retirement and was called to Fuller in Pasadena, California which is a multi-denominational Christian Seminary, where she received three years' training and graduated with two MA degrees in theology and world mission. She became concerned to see unity in Christendom and around her emerged a ministry called Resurrected Life Ministries which has impacted many people and ministers to people of all backgrounds and walks of life.
The Invitation * by Molly Sutherland
What life could be if you are open
Trade Paperback; $22.38; 165 pages; 978-1-4836-9891-5
Members of the media who wish to review this book may request a complimentary paperback copy by contacting the publisher at 800-056-3182. To purchase copies of the book for resale, please fax Xlibris at 44-203-006-8880 or call 800-056-3182. For more information, contact Xlibris at 800-056-3182 or on the web at XlibrisPublishing.co.uk.