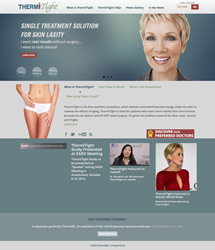 I strongly believe that www.ThermiTight.com will be an excellent resource for interested patients to find out more about ThermiTight and I encourage ThermiTight Physicians to consider a premium placing to better connect with those potential patients
Baltimore, MD (PRWEB) October 06, 2014
A revolutionary non-surgical procedure for skin laxity that uses thermal controlled heat under the skin to reverse the effects of aging on the face, neck, tummy and thighs.
In addition to helpful information, the site provides a national directory of physicians qualified to administer the ThermiTight procedure. Visitors to the site will be able to search by their desired zip code to see available practices. As the national marketing buzz for the procedure develops http://www.ThermiTight.com will generate visitors from offline press – including TV, Print and Radio. The site will also benefit from national organic search engine marketing, social media, and paid advertising. ThermiTight.com currently includes over 250 physicians in its directory and that number is expected to increase to over 350 by the end of 2014.
In addition to the basic directory listing available free of charge to all ThermiTight physicians, Impact Marketing Consultants LLC will be offering a Premium Listing option to physicians looking for an increased presence on the site: for $5 a day, "Preferred Physicians" will appear in multiple areas of the site. These physicians will have a premium listing with a full lead generation profile, as well as photos and search engine optimization to generate more new patients.
"I strongly believe that http://www.ThermiTight.com will be an excellent resource for interested patients to find out more about ThermiTight and I encourage ThermiTight Physicians to consider a premium placing to better connect with those potential patients," says Kevin O'Brien, President of Thermi.com.
Some nationally recognized physicians with Preferred Listings already include:
1. Brian Kinney, MD Beverly Hills, CA
2. Denis Branson, MD Fayetteville, NY
3. Richard Gentile, MD Youngstown, OH
4. Rick Noodleman, MD Campbell, CA
5. Leonard Miller, MD Brookline, MA
6. Steven Cohen, MD San Diego, CA
7. Jeffrey Caruth, MD Plano, TX
8. Yael Halaas, MD New York, NY
9. Douglas Key, MD Portland, OR
10. Richard Gregory, MD Orlando, FL
"We are very excited about ThermiTight.com because it is a perfect resource for potential patients to find out about the procedure and identify qualified doctors around the country to help them," says Brian Burns, President of Impact Marketing Consultants, LLC.
Consumers can visit http://www.thermitight.com for more information.
Press Contact – contact(at)impactmcs(dot)com