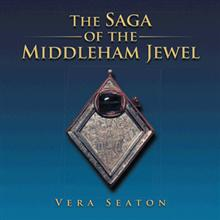 BLAYDON-ON-TYNE, England (PRWEB) September 23, 2014
A rare metal-detector discovery changes the lives of one family forever in Vera Seaton's new memoir, "The Saga of the Middleham Jewel" (published by AuthorHouse UK).
The story starts in Barnard Castle, England, in an antique shop called The Mudlark, where Seaton and her husband, Ted, made their home post-1970. With a young daughter to look after, the couple became self-employed as purveyors of The Mudlark.
A natural-born investigator, Ted had always been interested in metal detecting. He walked the English countryside using his self-proclaimed psychic abilities to discover new treasures hidden in the soil. On one of his investigative metal-detecting trips, he stumbled upon a medieval reliquary known as the Middleham Jewel.
After the pendant was appraised and deemed not to be a treasure trove, its mere presence and mystery changed the lives of the family forever.
Through this intimate look at one family's disappointments and discoveries, Seaton crafts an entertaining look into family life, business ownership and historic preservation.
"The Saga of the Middleham Jewel"
By Vera Seaton
Softcover | 8.5 x 8.5 in | 58 pages | ISBN 9781496975690
E-Book | 58 pages | ISBN 9781496975706
Available at Amazon and Barnes & Noble
About the Author
Vera Seaton was born in 1946 as one of seven children. She grew up in Lemington, England, on the River Tyne. Her husband, Ted, is an avid historian and enthusiastic about metal detecting. His most interesting find was the Middleham Jewel, which was Seaton's inspiration for writing "The Saga of the Middleham Jewel," her first book.
AuthorHouse UK Ltd., an Author Solutions, LLC self-publishing imprint, is a leading provider of self-publishing, marketing, and bookselling services dedicated to serving authors throughout the United Kingdom. AuthorHouse UK is committed to providing authors the best self-publishing experience through a wide array of products and services designed to help individual authors realise their unique creative vision. AuthorHouse UK assigns each author a personal publishing, marketing, and book consultant to provide professional guidance throughout the self-publishing process. To date, AuthorHouse UK has released more than 6,500 titles. For more information or to begin publishing a book today, visit authorhouse.co.uk or call 0800 1974150 or follow @AuthorHouseUK on Twitter for our latest news and updates