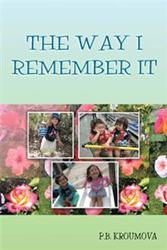 Will be featured at the 2014 Frankfurt Book Fair, Germany, from 8th Oct. 2014 to 12th Oct. 2014.
(PRWEB) July 16, 2014
Author P.B. Kroumova reveals a book of gratitude, which she entitled: "The Way I Remember It." Kroumova summarizes her book as:
"It is about all the beautiful people and places life met me with. About love, friendships, hardships, wars, the way it was and the chances we miss to make it better. About continents, countries and history, what we received, and what we pass on to the future. At the same time, it is about true stories part of the world's recent history, significant social, political, economic and racial issues i have come to know. 'The Way I Remember It' starts in Bulgaria- my place of birth, moves to Africa, Papua New Guinea, Europe and relates to the whole world, as… we are not so different, after all. Too many wars, too much suffering, not done enough for the planet, the future of our grandchildren… Africa drowning in the blood of brothers, racial and religious controversies, the responsibility of every country, race, peoples to the future generations, not more nuclear/toxins, hatred, wars, pollution… About friends, family, people from the places i lived, my students, important history-makers from the past and everybody else, who has influenced and shaped me as i am - they all are my heroes! I am equally in depth to Archimedes, Cervantes, Shakespeare, Italian Masters, those gems-building around the world, the beautiful faces, pictures, traditions - everybody, everything that has made us what and who we are. I would like my readers to take from this book the passion and responsibility for the life on the '3rd rock from the Sun.' To think more than do, to keep in mind their children's future, to seek truth not commodity, to open their hearts for more good and keep in focus the future…and, at least, to understand that we are not so different after all."
Aside from the people, "The Way I Remember It" is also about all the wonderful places, being Kroumova's home, which revealed their beauty, riches, character; where she learned to look at the trees as living breathing systems, to follow the birds in their flight and listen to the winds of times.
This book will be featured at the 2014 Frankfurt Book Fair, Germany, from 8th Oct. 2014 to 12th Oct. 2014.
For more information on this book, log on to Xlibris.co.nz.
About the Author
"In my life, i have had luck to survive, learn, teach, create, love, have children…but most of all, i am grateful for the people i met, worked and lived with, danced, cried…I owe my life to some of them, learned from them, shared food and grew wiser thanks to their patience. I love the places where i lived, worked and loved the people for whom i thought while building houses, buildings, projects. I love their children as mine and respect their parents as mine. All those generations before me and after me- they also deserve my gratitude. Wouldn't be what i am in this life without the people and the places i have the privilege to know, live with and be part of. IT is all about them… and the questions i try to get answers to. The questions - they are not only mine, you know." - P.B. Kroumova
The Way I Remember It by P.B. Kroumova
Publication Date: 17 February 2014
Trade Paperback; NZ$34.99; 134 pages; 9781493137602
Trade Hardback; NZ$54.99; 134 pages; 9781493137619
e-book; NZ$4.25; 9781493137626
Members of the media who wish to review this book may request a complimentary paperback copy by contacting the publisher at 0800-443-678. To purchase copies of the book for resale, please fax Xlibris at (09) 353-1455 or call 0800-443-678. For more information, contact Xlibris at 0800-443-678 or on the web at Xlibris.co.nz.