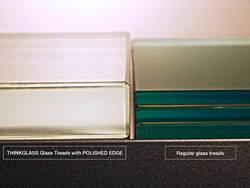 Glass treads can finally show the real beauty of pure glass
(PRWEB) February 26, 2014
Unattractive lamination lines in glass treads are now no more. Thanks to the a brand new line of treads from ThinkGlass, and the cutting-edge innovation of their unique polished-edges, glass treads can finally show the real beauty of pure glass.
For years, the standard for glass treads was to glue together layers of glass, leaving an unsightly visible gap between the glass layers. Filled with glue, these gaps tarnish the beauty of pure glass edges. ThinkGlass is now changing all that by implementing a new thermoforming technique that fuses together the layers of glass, rather than simply gluing them.
Glass Treads can be sized and shaped to fit any space, from a dramatic grand glass staircase to a compact spiral design. Customers have the option of selecting staircases made entirely of glass treads, or one that is simply accented with a few glass steps. The glass treads can range from 1.5" to 4" thick, and can be complemented with LED lights to make them even more spectacular.
Glass is strong and durable. In fact, glass treads that are at least 1.5-inches thick are up to three times stronger than granite or stone, and they can bear a load of 1800 lbs. at the center of a 36" wide tread. All ThinkGlass treads pass mandated strength requirement testing and are laminated on the underside with an invisible safety film for extra security. ThinkGlass brand glass steps are also slip resistant. An embedded texture provides an anti-skid surface that is scratch-proof and resists any smudges or streaks. ThinkGlass glass stair treads exceed current standards for "coefficient of friction" requirements as specified by ASTM section c1028, Underwriters Laboratories UL-410, and ADA.
Glass is a pure and noble material. There is simply no other product that can rival its natural beauty and luminescence. Also, glass is an eco-friendly option: glass is a natural material made from sand and minerals and is fully recyclable. Installation is cleaner, faster and produces less waste than traditional cement or drywall construction. Glass allows natural light to flow throughout a space, reducing overall energy costs, and provides soothing views of the outdoors.
Glass treads are radon free, have no negative impact on air quality, and qualify for points under LEED and NAHB building guidelines. ThinkGlass also uses eco-friendly production practices with a strong commitment to sustainability and good working conditions.
About THINKGLASS
The ThinkGlass story began in 1999 in an empty room under the leadership of two creative individuals who were passionate about beautiful glasswork. Today, the company is one of the most successful glass design and manufacturing studios in the world with a shop that encompasses more than 30,000 square feet, 27 employees and 21 state-of-the-art, custom made ovens.
ThinkGlass is still headed by its two original founders – glass master Michel Mailhot who is the artistic soul of the company, and Bertrand Charest, a certified engineer and company president. Together with their talented team, they produce all manners of glass masterpieces, from residential kitchen to bathroom vanity countertops and backsplashes to fantastical sculptures, wall murals and floor tiles, and even large-scale commercial projects for restaurants, nightclubs and offices.
ThinkGlass quickly became a leader in the thermoforming industry by pioneering a versatile technique that allows the creation of new or repetitive textures. This process allows the creation of glass slabs without thickness constraints opening the door to all kinds of design possibilities. All ThinkGlass creations are made from 100% recyclable glass using sustainable practices and without the use of any adhesive or sealant potentially containing harmful volatile organic compounds (VOCs).
For more information about ThinkGlass products, visit thinkglass.com or call 1-877-410-4527.