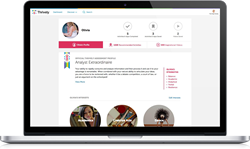 Thrively empowers kids to achieve excellence by discovering and building on their unique strengths.Thrively's recommendation engine helps kids discover new interest areas that could spark a passion.
Glendale, California (PRWEB) November 19, 2014
Most American children will spend more than 12,000 hours learning and studying traditional school subjects. For some, their time in school will help uncover an activity they are passionate about, whether biology or basketball. But for others, achieving even "average" grades is a struggle, and discovering activities that excite them is elusive.
Enter Thrively, a new way for children to discover activities and pastimes they are most likely to be passionate about. Thrively empowers kids to achieve excellence by discovering and building on their unique strengths.
Thrively founders Jon Kraft, co-founder of Pandora, and Girish Venkat, chief software architect of Stamps.com, are fathers who created the newly launched service to help other parents identify and select appropriate enrichment opportunities from the growing number of choices available in local communities and online. Similar to how Pandora helps music lovers discover new artists, Thrively's recommendation engine helps kids discover new interest areas that could spark a passion. Research has shown that children thrive when they are passionate about their activities.
After their parent registers on the website, children complete Thrively's proprietary Strength Assessment survey to uncover recommendations in more than 200 interest areas from Thrively's curated collection of over 120,000 activities. The survey, designed for children ages 8-14 to complete on their own, pinpoints each child's core strengths across 23 different areas and presents a Strength Profile showing how each child's talents apply in the "real world." Based on the results, Thrively's recommendation engine presents each child with a stream of targeted extracurricular activities, educational apps and inspirational videos.
For instance, if the Strength Assessment shows a child is deeply compassionate and loves animals, Thrively finds a volunteer opportunity at the local animal shelter. What if she's determined and loves puzzling challenges? Thrively can locate a kids' engineering camp that will foster those strengths. Analytical and loves art? There could be a 3D animation program right in her neighborhood.
Our nation's focus on educational standards is helping with measurement, but it's also creating an "Education Gap" – students have limited access to practical life-learning subjects, or activity areas that match their real-life passions. Not every child excels in the same areas, yet we label children as 'average' or 'below average' based purely on test scores in a few core academic subjects. As parents themselves, the Thrively team knows that every child has his or her own genius inside them. Our goal at Thrively is to help them discover it.
"Each child is exceptional in his or her own way," said Venkat, Thrively's Co-Founder and Chief Technology Officer. "The Strength Assessment survey provides tweens and teens with a way of looking at themselves and discovering what's special about them. By mapping the results against a database of highly indexed classes, each child can find recommended activities ideal for their strengths and aptitudes that they may never have considered."
Thrively worked with two of California's seven board-certified pediatric neuropsychologists to develop the interactive Strength Assessment. Opportunities include classes within a child's neighborhood and metropolitan area, as well as intensive summer programs that are "worth traveling for." From sports to academic enrichment to the arts and everything in between, Thrively's activity database grows weekly with the addition of new camps, classes, and after-school activities.
"Most parents can think of five or six activities for their kids, things they did themselves as children or common ones like soccer, dance, and piano," said Kraft. "But our core index covers over 200 co-curricular activities, whether it's fashion design, equestrian, game design and development, or even circus arts. Kids and parents absolutely light up when they see what's available for them to try today."
On the Thrively site, members can offer reviews, create their own Thrively boards of recommended classes, and contribute new courses. A separate Strength Assessment designed for 4-7 year-olds is in development.
About Thrively
Thrively is a family website that helps kids discover and pursue their passions in life. Our approach is to focus on children's strengths and introduce them to opportunities where they are most likely to thrive. Visit Thrively.com to learn more and register.
Follow Thrively
Facebook: facebook.com/thrively
Twitter: @thrively
Pinterest: @thrively
Instagram: @thrivelypics
Blog: http://blog.thrively.com/