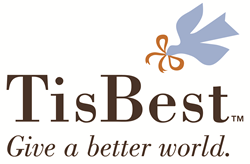 We want to encourage businesses and individuals to help others experience the joy of giving.
Seattle, Wash. (PRWEB) December 02, 2014
In a letter released today, TisBest Executive Director Jon Siegel urges the nonprofit's supporters to help others give, rather than make a direct donation to the organization for #GivingTuesday.
"Although TisBest is a charity and can accept donations, we have a slightly different view on the meaning of #GivingTuesday," Siegel says. "We want to encourage businesses and individuals to help others experience the joy of giving."
Siegel asks that people consider paying their donation forward by placing funds on a charity gift card that the recipient can use to donate to a cause they feel passionate about.
"Since 2007 we've raised funds for hundreds of nonprofit organizations," Siegel writes in the letter, which is posted on the TisBest blog. "We've sent millions of dollars to charities, and we continue to grow. Rather than solicit funds from donors, we simply ask that you pay it forward, using our charity gift cards. Your TisBest donation gift allows your recipient to support the cause of their choice. We hope your #GivingTuesday (which we'd love to see expanded to #GivingAnyDay!) will be spent not only supporting your favorite causes directly, but also encouraging your friends and family to do the same."
TisBest Director of Programs Karli Anne Christiansen cites recent research on the science of giving as an important indication that helping others give can be a mutually rewarding experience.
"Giving to charity activates the pleasure circuits in the brain," Christiansen says. "By giving someone an opportunity to give to charity, your recipient also receives a dose of happiness, similar to when they eat a spectacular meal or receiving a pleasant and unexpected surprise. Giving someone an opportunity to make a donation is just like giving them a little shot of happiness, straight to the brain."
TisBest has partnered with hundreds of nonprofits, many of which also provide opportunities to give this gift of giving.
"Two of our charity partners, DonorsChoose and Heifer International, do a spectacular job of engaging a gift recipient in the joy of making a difference," Siegel says. "But if you're not sure if your recipient wants to support education or farming, a more generic donation gift will allow them to choose from those or hundreds of other worthy causes when they make their donation."
To read Siegel's letter, #GivingTuesday Isn't About Asking for Donations, in its entirety, visit the TisBest blog at http://www.TisBest.org/blog.
About TisBest Philanthropy:
TisBest Philanthropy is a 501(c)(3) nonprofit organization dedicated to fostering the growth of non-material gift-giving. TisBest created charity gift cards in 2007. Charity gift cards work like conventional gift cards, but with one important exception: the recipient of a charity gift card "spends" it by choosing a charity to receive the funds.
With a TisBest Charity Gift Card, you make the donation and your recipient decides how to spend the donation, choosing from TisBest's 300+ charity partners.TisBest cards are customizable at no additional cost, and have become increasingly popular as consumer and business gifts. Learn more at http://www.tisbest.org.