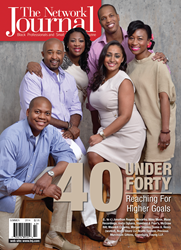 TNJ cherishes its role as a facilitator for our up-and-coming African-American men and women...Through events such as our recognition awards program, says Aziz Gueye Adetimirin, TNJ's founder, publisher and CEO
New York, NY (PRWEB) May 29, 2014
The Network Journal (TNJ, http://www.tnj.com), the New York tri-state area's premier quarterly magazine for Black professionals, corporate executives and small-business owners, announces the recipients of its 2014 "40 Under Forty" Achievement Awards. The annual award recognizes outstanding young African-Americans who are "Reaching for Higher Goals" in their careers while remaining committed to their community's development.
This year's class will be honored at the 17th Annual "40 Under Forty" Achievement Awards Dinner on Thursday, June 12, 2014, in New York City. The awards dinner, themed "Reaching for Higher Goals," will be co-hosted by Terrance McKnight, WQXR weekday evening host and host of the station's Saturday evening show, All Ears with Terrance McKnight, and Shartia Brantley, producer of Street Signs, CNBC/NBC Universal, and financial news contributor at TheGrio.com. The dinner will be held at the Crowne Plaza Hotel in Times Square, 1605 Broadway (at 49th Street), from 6:30 p.m. to 10:00 p.m., and is sponsored by WBLS and AfricaStrictlyBusiness.com.
For more information, please visit http://www.tnj.com/events/40-under-forty/dinner.html or check newsstands for the latest issue.
"As we celebrate the 17th consecutive year of our 40 Under Forty Achievement Awards, TNJ cherishes its role as a facilitator for our up-and-coming African-American men and women to progress even further in their careers. Through events such as our recognition awards program, TNJ brings these accomplished professionals and entrepreneurs to the attention of our vast network of corporate affiliations," says Aziz Gueye Adetimirin, TNJ's founder, publisher and CEO.
Competition for the 40 Under Forty Achievement Awards has become increasingly intense, with the number of entries growing exponentially each year.
TNJ salutes all of the 2014 award recipients:

Nicole A. Bell, MD; Partner Physician of Private OB/GYN Practice, Women for Women Ob/Gyn LLC
Jonathan S. Clark; Senior Manager, Business Development, G.W. Peoples Contracting Co., Inc.
Kristen Clarke; Chief, Civil Rights Bureau, New York State Attorney General's Office
Mandell Crawley; Managing Director, Head of National Business Development, Morgan Stanley
Sivonne Davis; Assistant Vice President, Marketing, SoftSheen‐Carson, A Division of L'Oreal USA
Carole Gardner Diarra; Vice President of Marketing, Garnier Skincare
Tai A. Dixon, Esq.; Managing Director, National Talent Recruitment, Teach For America
Rachel Dunbar, Ph.D.; Assistant Professor of Education, Alabama A & M University
Paula T. Edgar, Esq.; Chief Diversity Officer and Admissions Specialist, New York Law School
Nia Evans; General Manager, General Electric Company/GE Capital
Victoria D. Fleary; Director of Interactive, WBLS / WLIB - Emmis Communications Corp
Antonia Floyd; Global Marketing Manager, The Estée Lauder Companies
Tanesha Francis, DMD; Board Certified Pediatric Dentist, Park Slope Kids Dental Care
Jamilah Fraser; Assistant Vice President of Communications and Public Relations, Medgar Evers College-CUNY
Precious Murchison Gittens; Shareholder, Greenberg Traurig LLP
Charles E. Harris, II, Esq.; Partner, Mayer Brown LLP
Sonia A. Henry, MD; Assistant Director of Echocardiography, North Shore LIJ Health System
Janelle Lester; Chief Compliance Officer, Forex Capital Markets, LLC
Jason Lewis; Chief Executive Officer, AryMing Asset Funding
Janina Lundy; Senior Vice President, Branded Entertainment and Experiential, GlobalHue
Karesha A. McGee; Global Marketing and Corporate Communications, Cisco Systems
Mike Muse; Chief Executive Officer, Muse Recordings
Anita Ogbara; Director, Corporate Ratings, Standard & Poor's, McGraw Hill Financial
Uzoamaka N. Okoye, Esq.; Associate, Gibbons P.C.
Justina Omokhua; Vice President, Strategy, Erwin Penland
David Yaw Barima Osei; Co-founder, Dropifi Limited
Ryan Patrick Parker; Chief Diversity and Inclusion Officer, Robert Wood Johnson University Hospital
Errol Pierre; Assistant Vice President, Product Management, Healthfirst
Candace L. Randle; Director, Corporate Communications and Public Affairs, The RLJ Companies
Tennille M. Robinson; Senior Content and Event Producer, Inc. Magazine
Jonathan Rogers; Executive MS Sales Specialist, Novartis Pharmaceuticals Corporation
Victor R. Scott, II; Corporate Director of Government Relations, Pinnacle Entertainment, Inc.
Tunisia L. Staten, Esq.; Senior Associate Counsel, Aflac
Jana L. Taylor, Esq.; Associate General Counsel, Radio One, Inc.
James Thomas; Corporate Diversity Affairs Director, Nordstrom
Brannigan C. Thompson; Senior Vice President, Head of Organization, Leadership and Talent Development, Voya Financial
Natika Washington; Director of Global Programs, Secretary's Office of Global Women's Issues, U.S. Department of State
Tennille Williams; Executive Director of Quality Assurance Northtec LLC, The Estée Lauder Companies Inc.
Valerie Williams; Communications Consultant, Public Relations Lead for African American and LGBT Segments, Wells Fargo
Amy Wollensack; Partner, Kirkland & Ellis LLP
About the "40 Under Forty"
TNJ created the 40 Under Forty Achievement Awards in 1997 to recognize young African-Americans who have proven to be exceptional performers in their industry and committed contributors to the advancement of their community. The program is designed to promote mentorship and professional development for these next-generation leaders by introducing them to the established business community as role models for young African-Americans. For more information on TNJ's 40 Under Forty Achievement Awards, visit http://www.tnj.com, or contact Sabrina D. Eady at 212-962-3791 x206, or at Sabrina@tnj.com.
About The Network Journal
Founded in 1993, The Network Journal (TNJ) is the premier quarterly magazine for Black professionals, corporate executives and small-business owners. Engaging more than 98,325 readers, TNJ is dedicated to connecting, empowering and inspiring this market segment by providing news and commentary on issues that affect the growth of businesses and the advancement of professionals in the workplace. Along with featuring successful entrepreneurs and professionals who offer insights on business and career-building strategies, TNJ highlights trends in key industries, providing information on resources and opportunities at the corporate, government, and not-for-profit levels. Each issue also includes articles on finance and economy, career, management, health and fitness, technology, global business, Africa, and book reviews, as well as a calendar of events.