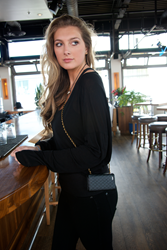 Los Angeles, CA (PRWEB) May 15, 2014
Toola's collection of versatile cross-body phone cases are the perfect hands-free accessory for any situation. Compact but spacious enough to accommodate keys, credit cards, and other vitals, Toola cases are quickly becoming a favored accessory among LA's entertainment executives (and their celeb clientele), hip moms, fashion-forward students, and women on the go.
Founded by former music industry impresario and mom-about-town Meredith Brunswick-Mounce, Toola is a simple concept for an increasingly complex tech world. The personal technology revolution has created the need for us to have our phones immediately accessible at all times: Duckface selfies! Internet access! Texting! …and who hasn't had that "oh $#%&!" moment when you realize your phone isn't where you thought it was?
"I remember the exact moment I was inspired to start Toola," Meredith laughs. "As usual I was juggling a million things, trying to do too much at once, and when an important phone call came in I missed it because I couldn't find my damn Bluetooth headset fast enough. For all I knew, I'd actually lost it…along with my call."
Toola recently launched at the Coachella Valley Music & Arts Festival, keeping on-the-go festival workers cool, connected, and fully mobile. To thank music lovers for their rave reviews, Toola is sharing a Summer Music Festival discount code for 10% off product and free shipping (code: MUSICFEST, US only).
Toola is available at specialty shops and fine boutiques in Southern California or can be ordered online at http://www.toolastyle.com.