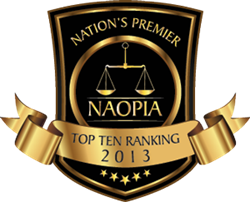 Thank you NAOPIA for this award. This recognition will allow me to reach more injured people who need experienced yet compassionate legal representation
Newtown, Pennsylvania (PRWEB) February 20, 2014
Pennsylvania attorney, Michael L. Saile, Jr., of Saile & Saile LLP has earned the prestigious distinction of being named one of the Top 10 Under 40 attorneys in Pennsylvania. Through its rigorous selection process, the National Academy of Personal Injury Attorneys' (NAOPIA) search for Pennsylvania's most skilled lawyers found Mr. Saile among its upper echelon. His by-nomination-only selection recognizes his "expertise, commitment, and countless hours spent mastering [his] craft," in the personal injury practice area.
The selection process engages independent research only of those attorneys who are nominated by another licensed, practicing attorney. Nominees are verified by the research committee to ensure they meet the minimum requirements. Once vetted, only fifty are put forth for potential award to the NAOPIA Board of Governors. The Board in turn, chooses from among them the Top 10 Under 40 based on a variety of additional criteria including: peer and client reviews, total length of time as a practicing attorney, case outcomes, education, published books and scholarly articles and other criteria. The NAOPIA reports that less than 1% of lawyers nationally are selected for this honor.
As an attorney under the age of 40, Mr. Saile exemplifies the superior qualifications required for the nod, including his track record and his proven community leadership. Michael L. Saile, Jr., Esq. writes, "It is an honor to receive recognition from the National Academy of Personal Injury Attorneys. It is my goal to provide sound legal guidance during what is often a confusing and stressful time for most people."
Licensed for over 10 years, Mr. Saile focuses his practice at Saile & Saile LLP on personal injury law in Pennsylvania and New Jersey and has been named multiple times to the list known as "Rising Star-Super Lawyers" by SuperLawyers.com. He has been also been named multiple times a Top 40 Under 40 attorney by the National Trial Lawyers Association, as well as one of the 2014 Top 40 Under 40 by the American Society of Legal Advocates (ASLA). His "Superb" rating on Avvo.com, a professional ratings website, from both clients and peers speaks to his superior qualifications. He has been named Happening List's Bucks County's Most Happening Lawyer for 2012, and recognized as one of Forty Under 40 business and community leaders by the Bucks County Courier Times.
The injury lawyers at Saile & Saile LLP help victims of auto, truck, motorcycle, bicycle and pedestrian accidents to recover compensation against insurance companies. Saile & Saile LLP offers a FREE guide to anyone who has been injured in an accident in Pennsylvania or New Jersey by downloading "Don't Crash Again."
The NJ & PA injury law firm of Saile & Saile LLP is located in lower Bucks County, Pennsylvania, just north of Philadelphia and minutes west of Trenton, New Jersey. We represent injured victims of accidents throughout the states of New Jersey and Pennsylvania. We can be reached toll free at 800-860-5801.