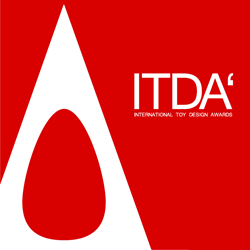 Creative and educative toys will especially be highlighted.
Como, Italy (PRWEB) February 08, 2014
It's easy to come up with cool design ideas but good design ideas are what count when it comes to the International Toy Design Awards (ITDA), which is looking for best toys, outstanding games and exceptional recreation equipment from worldwide manufacturers and designers. Entries will be considered for their aesthetics, technological innovation and engineering but more importantly they will be voted based on their play-friendly nature. Product designs that are non-toxic, eco-friendly, ergonomic, child-safe, creative, educative, imaginative, original, unique, easy to use, easy to understand and fun to play will be highlighted.
Entries to the International Toy Design Awards will be peer-reviewed and blind-voted by an experienced 50-person jury panel of professionals, press members and scholars to ensure that the submitted toys, recreational equipment, action figures, games, playgrounds, hobby-kits, collectibles and any other products would be fairly judged. In addition to toy, recreational equipment and game design categories, the competition will also consider hobby products, gift items, kids' furniture and baby-products under distinct categories.
Laureates of the International Toy Design Competition will be given the grand "A' Design Prize". The A' Design Prize is a unique winners' kit that includes the design award certificate, gala-night participation, online + offline exhibition, yearbook, trophy, project translation, press release preparation and distribution as well as communication to thousands of media members. A' Design Awards promises fame, prestige, publicity and international recognition to all A' International Toy Design Award winners who will be connected to the most prestigious global design publications, highlighting designers' profiles and concepts in addition to being featured on the A' Design Award website.
Entries must be nominated before Friday, February 28, 2014 by 23.59 GMT+1. Results will be announced on April 15, 2014. Entry forms and submission guidelines are available at http://www.adesignaward.com.
About the International Toy Design Awards
The A' Design Award & Competition has a philanthropic goal to support creative and imaginative products that help develop "critical thinking skills" and "creative problem-solving abilities" in children. We believe that investing in the design of children products, making them more intelligent, smarter, safer and fun, is indeed investing in future. The A' International Toy Design Awards were therefore established to create an incentive for worldwide designers and manufacturers to come up with better toys that are not just more fun, but also educative, creative and safe. Learn more at http://www.whatisadesignaward.com.