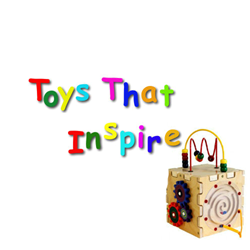 (PRWEB) January 09, 2014
Wilma Staton is excited to announce the creation and launch of her new website venture, http://www.ToysThatInspire.com. The website offers a high quality line of educational toys, as well as environmental safety toys and physician's waiting room toys. The primary focus of the website is on roller coaster toys and bead mazes. Staton has always been interested in safe toys for children as well as toys that teach children, help to educate them, and inspire their growth. As a parent and grandmother, she has plenty of experience with raising children and seeing the ways that they interact with toys.
There are many excellent products featured within the merchandise of ToysThatInspire.com. The main toys offered on the site include roller coaster toys, wire beads, and magnetic mazes. A number of these products have been awarded the Parent's Choice award and other prestigious awards; many of these items are unique to child development and continue to be recognized for their creativity and quality. The products primarily come from Anatex Toys, which is a well-respected brand in the toy industry.
In the future, Staton plans to further expand the product lines that are offered on ToysThatInspire.com. She intends to add some different children's trampolines, in addition to other quality toys. By periodically updating the website's merchandise, she hopes to encourage customers to keep coming back to the site to check out what new items have been added.
To complement the main website, Staton is also launching a blog located at http://www.EcoFriendlyPlayIdeas.com. The blog will feature topics related to the different items that are prominently featured in the online store. Staton will be emphasizing the environmental safety of these toys and the ways they can help to develop knowledge and growth for children.
About the Company:
ToysThatInspire.com -- a division of Star Trend, LLC -- is owned and operated by Web entrepreneur Wilma Staton.
****
Wilma Staton
http://www.ToysThatInspire.com
(800) 390-8110
iePlexus, Inc.
http://www.iePlexus.com