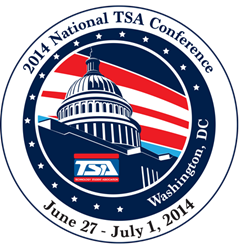 Reston, VA (PRWEB) July 09, 2014
As education communities nationwide continue to sharpen their focus on science, technology, engineering, and mathematics (STEM) education initiatives, middle and high school students proved their skill in STEM competitions at the 2014 national Technology Student Association (TSA) conference.
More than 6,800 students and educators from across the nation gathered near the nation's capital to attend the conference. It took place at the Gaylord National Resort and Convention Center, National Harbor, Maryland, from June 27 through July 1.
Middle and high school student members took part in more than 60 competitive events based on principles and concepts learned through projects during the school year in STEM (science, technology, engineering and mathematics) subjects. Guided by their chapter advisors (teachers), these students competed with their peers in STEM events such as Agriculture and Biotechnology, CAD, Construction Renovation, Video Game Design, Dragster Design, Engineering Design, Flight Endurance, Music Production, and Structural Engineering. Finalists have been posted on the TSA website.
This marked the inaugural year for staging Junior Solar Sprint at the national level. This new middle school competition partners TSA with the U.S. Army Educational Outreach Program (AEOP). More than 60 teams of 5th through 8th grade students participated, with finalists posted to the TSA website.
Approximately 400 students competed collaboratively in the national competition of TEAMS: Tests of Engineering Aptitude, Mathematics, and Science. Students took part in oral and problem-solving exercises addressing real-world engineering challenges related to the theme "Engineering Tomorrow's Cities." Competition results are available on the TEAMS website.
Nearly 100 teams participated in the TSA VEX Toss-up competition, an exciting head-to-head robotics challenge. National winners are available online.
Representatives from eight winning teams from the Verizon Innovative App Challenge presented their mobile apps to conference attendees as well. TSA administers this program for the Verizon Foundation. Winning teams earned cash grants for their schools and received instruction in building their apps to bring them to market through the Google Play store.
"The skill and knowledge demonstrated by all students at this year's conference was remarkable. It is proof that that breadth of opportunity to gain hands-on career preparation in the STEM disciplines through TSA and its competitions has been embraced and is valued by students and educators alike," explains Dr. Rosanne White, TSA executive director.
About the Technology Student Association (TSA)
TSA is a national organization for students engaged in science, technology, engineering, and mathematics (STEM). Open to young people enrolled in or who have completed technology education courses, TSA's membership includes more than 200,000 middle and high school students in 2,000 schools spanning 48 states. TSA partners with universities and other organizations to promote a variety of STEM competitions and opportunities for students and teachers. TSA is supported by educators, parents, and business leaders who believe in the need for a technologically literate society. From engineers to business managers, our alumni credit TSA with a positive influence in their lives. Visit the Technology Student Association website for more information.