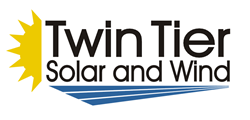 ... huge opportunities for our customers to join the Go Green movement.
Elmira Heights, New York (PRWEB) September 04, 2014
Twin Tier Solar and Wind, a full service solar and wind energy company, headquartered in Elmira Heights, New York, announced today that it will be making available a new white paper that details why now is the time to make the leap to solar power.
The new paper titled "2014: The Year to Embrace Alternative Energy," covers how recent Twin Tier region tax law adjustments and financing options make 2014 the year to adopt environmentally-friendly, alternative energy solutions. In addition, the paper discusses how efficiencies in manufacturing, technologies and installation methods have affected costs, and made alternative energy more available for commercial and residential applications alike.
Twin Tier Solar and Wind LLC was created in 2009 to meet the rapidly growing demands for alternative energy products in the Twin Tier regions of New York state and Pennsylvania. The company has expertise in design, procurement, installation and service of Photovoltaic (PV), solar energy solutions, as well as small wind solutions. Since inception, the company has installed over 1.5 MW of solar power.
"Alternative Energy, Solar Power in particular, is more available to residents and businesses in the Twin Tier area now than ever before," said Lindsay Mills, president of Twin Tier Solar and Wind. "We all know that alternative energy is better for us all in terms of natural resource preservation and overall environmental health. The trick has been overcoming affordabilty issues, as well as other restrictions. Well, many changes have come about recently resulting in far less barriers to those who want to reduce their carbon footprint and their dependence on traditional utilities."
You can download the new white paper, 2014: The Year to Embrace Alternative Energy now.
Twin Tier installers are factory certified and all of their solar installations are supervised by in-house NABCEP certified personnel.
Twin Tier Solar and Wind is a wholly owned subsidiary of John Mills Electric, the Southern Tier's oldest electrical contractor, serving the area since 1946. The company is also a proud member of the North American Board of Certified Energy Practitioners, NABCEP CERTIFICATION #032611-87.
About Twin Tier Solar and Wind
For individuals and businesses wanting to save money on their energy bills, and at the same time recapture some of their federal and state income taxes, Twin Tier Solar and Wind provides the comprehensive alternative energy solutions that you are looking for.
Twin Tier constantly seeks out the best and latest solar and small wind technologies and provides them to customers at a competitive and affordable price.
Unlike other alternative energy companies, Twin Tier uses only high quality products, installed by our own professionally trained technicians, ensuring that our customers get the very best product possible.
Visit us today at http://www.ttsolarandwind.com, and follow us on Facebook and Twitter.
Twin Tier Solar and Wind, LLC
18136 Grand Central Avenue
Elmira Heights, NY 14903
(607) 734-4111