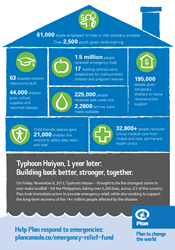 Toronto, Canada (PRWEB) November 07, 2014
One year after the most powerful storm to ever make landfall slammed into the Philippines, the resilience of the Filipino people and the unprecedented scale of the international response has led to a recovery that is both remarkable and a testament to the resilience of the people of the Philippines. While much progress has been made in the one year since the disaster, the work needed to rebuild communities and livelihoods is far from complete, according to humanitarian relief and child rights organization Plan Canada.
Haiyan (known in the Philippines as Typhoon Yolanda), a Category 5 Typhoon, hit the Eastern and Central Philippines on November 8, 2013. More than 6,200 people were killed, thousands are still missing, and more than 14 million people affected, including 5 million children.
Plan has been a leader in the response to Haiyan. As the typhoon approached, Plan pre-positioned core humanitarian resources in many of the affected areas, was onsite immediately after the impact, and has been there ever since, helping to ensure child protection, counselling and support, access to education and health services, and rebuilding homes, schools, health clinics, and water and sanitation facilities.
An example of Plan's innovative recovery and development initiatives is the "Building Back Better" project in Tacloban. Beyond just rebuilding, Plan is working shoulder-to-shoulder with the community to foster ownership of Haiyan-affected residents in rehabilitating their homes and communities. Plan is training community members in disaster-resilient construction techniques and working with neighbourhoods to build the homes, schools, and health facilities that they want to live in, their children to grow up in, and that can withstand future storms.
Immediate needs have been met, but long-term recovery and reconstruction needs remain. Canadian donations made in the wake of the disaster will continue to support families getting back on their feet, and Plan will continue to support children and communities as they recover.
The Philippines is one of the most disaster-vulnerable countries on earth. An average of 20 typhoons hit the country every year, and the frequency and ferocity of these storms is increasing as a result of climate change. Plan's recovery work takes a holistic approach, including working directly with communities, and particularly children, advocating for legislation that protects children in emergencies, and fostering community-based emergency preparedness and response practices.
About Plan and the Because I am a Girl initiative
Founded in 1937, Plan is one of the world's oldest and largest international development agencies, working in partnership with millions of people around the world to end global poverty. Not for profit, independent and inclusive of all faiths and cultures, Plan has only one agenda: to improve the lives of children. Because I am a Girl is Plan's global initiative to end gender inequality, promote girls' rights and lift millions of girls – and everyone around them – out of poverty. Visit plancanada.ca and becauseiamagirl.ca for more information.
Plan is proud to participate in the HUMANITARIAN COALITION, comprised of Plan Canada, CARE Canada, Oxfam Canada, Oxfam-Québec, and Save the Children Canada, five of Canada's largest relief agencies. By joining our efforts, the HUMANITARIAN COALITION will increase the impact of Canadian humanitarian responses and reduce administrative costs. To find out more, visit the HUMANITARIAN COALITION website at together.ca.