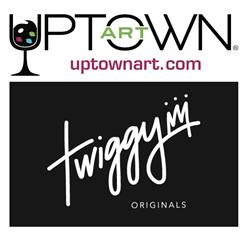 (PRWEB) September 12, 2014
An artist who lights up the room with her exuberant paintings and personality, Carla Terwilleger, better known as "Twiggy," has knocked the smocks off the art world by bringing to life her own colorful versions of femme fatales. Born from doodles on cocktail napkins, Twiggy's femme fatales command attention – and fascination – with their stunning beauty, sultry curves and haute sense of style. Battling a coquettish eye and brandishing a chilled martini glass, each one exudes irresistible glamour.
Twiggy's portfolio also includes Twiggy Bridal – custom paintings for wedding parties, and Twiggy Baby – paintings perfect for the most stylish nurseries. Her art and designs have been featured in more than 30 exhibits, several major publications across the country and even a nation–wide advertising campaign. "In September, she brings her fierce, bold and brazen Twiggy beauties to Uptown Art with an exclusive partnership you won't find at any of our competitors. With each Twiggy class, you have the ability to create one of her femme fatales in your likeness – your hair color, cocktail of choice and even your sorority letters if you so desire," said Vicki Meads, Uptown Art Co-CEO.
"Twiggy's Uptown Art classes in Louisville, Kentucky, sell out in minutes and the evening is always the ultimate girls night out! So, grab your best friends and sign-up before it's too late. It's sure to be a night of wine, laughs and glam!" encourages Twiggy.
For more information about Carla and Twiggy Originals, visit Facebook.com/Twiggy.Originals or http://www.twiggyoriginals.com. Locations currently hosting a Twiggy Original class include Athens, GA; Chandler, AZ; Chattanooga, TN; Sussex, WI; West Palm Beach, FL; Auburn, AL; and Montgomery, AL.
Uptown Art offers a premier social art experience for beginners to advanced artists. Enjoy a night out, follow the step-by-step instruction and create your own masterpiece. Uptown Art also presents a collection of artwork created by each location's local artists as well as supporting professional artists by licensing their artwork.
Interested in opening an Uptown Art studio? Please contact the Uptown Art licensing department.