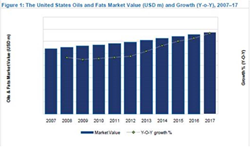 The Oils and Fats Market in United States is expected to reach USD 6758.1 billion by 2017
Lewes, DE (PRWEB) February 24, 2014
The rate of growth in the US's Oils & Fats market exhibited between 2007-2012 will positively increase between 2013-2017, according to a new report – which forecasts an average Y-o-Y growth of 2.6% between 2013 and 2017, by which time the market will value in billion (USD 6758.1billion).
Oils are the most valuable product segment in the US's Oils & Fats market – It's current worth standing at over USD5453– Solid fats will exhibit the most considerable growth since 2007, and this is a trend that is set to continue to 2017, with forecasting a CAGR of 2.98%.
The volume of units sold in the Oils & Fats market in the US over the next four years, will see the number of units sold increase from 1604.4 million in 2013 to 1769.8million in 2017.
Inquire about this report: http://www.marketresearchreports.com/canadean/future-oils-and-fats-market-united-states-2017-market-size-distribution-and-brand-share-key
The report offers authoritative and granular data on the Oils & Fats market in the US, including volume and value changes, brand dynamics, and distribution trends. Through its examination of the components of change in the market through historic and future growth patterns, the report facilitates the promotion of growth through a proper understanding of market trends, accurate assessment of market positioning, and the confident updating of strategic plans, and should be considered required reading for those serious about capitalizing on the opportunities in the Oils & Fats market in the US.
Target audience for this report:

Oils & Fats Industries
Suppliers to the Oils & Fats Industry.
Oils & Fats Researchers
Trade body, academia or other industry observers
Marketing and advertising executives.
Reason to buy this report:

Enhance your understanding of the value and volume growth dynamics of the Oils & Fats market in the US.
Promote growth in your business with detailed product sales for both volumes and values, as well as sales by distribution channel at the product category level.
Identify the future pattern of market trends, from winners and losers to category dynamics; and thereby quickly and easily indentify the key areas in which they want to compete in the future.
Familiarize yourself with the detailed profiles of companies active in the Oils & Fats market in the US.
Improve your knowledge of the latest industry news and mergers & acquisitions.
Purchase a copy of this report at: The Future of the Oils and Fats Market in the US to 2017: Market Size, Distribution and Brand Share, Key Events and Competitive Landscape
Browse all the reports related to food sector: http://www.marketresearchreports.com/food
Find other reports from USA at: http://www.marketresearchreports.com/countries/usa
About Market Research Reports, Inc.
Market Research Reports, Inc. is the world's leading source for market research reports and market data. We provide you with the latest market research reports on global markets, key industries, leading companies, new products and latest industry analysis & trends.
Press Contact:
Mr. Amitava Sen
General Manager - Sales & Marketing
Market Research Reports, Inc.
Tel USA: +1-302-703-7787
Tel India: +91-80-26860858
Follow us on LinkedIn : http://www.linkedin.com/company/market-research-reports-inc-