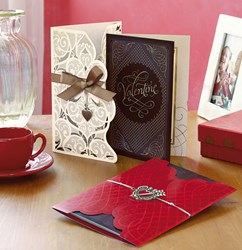 "About 2/3 of the more than 142 million cards given at Valentine's Day are given to children, family members and friends."
Kansas City, MO (PRWEB) January 31, 2014
It's a day devoted to love. Whether that's romantic love, love for family members, or sharing a laugh with friends, Hallmark provides Valentine's Day greeting cards and gifts for the widest range of relationships in the industry.
"You might think that most valentine cards are exchanged by people in romantic relationships," says Clint Schlosser, Hallmark greetings business analyst. "Actually, about 2/3 of the more than 142 million cards given at Valentine's Day are given to children, family members and friends."
This year, Hallmark offers 1,200 different Valentine's Day card designs – with a broad selection of cards for family relationships – and a wide array of gifts that will make hearts of all ages happy, including:
Sarah Jessica Parker Collection — This beautiful new collection, available exclusively at Hallmark Gold Crown® stores, pairs vintage artwork from the Hallmark archives with modern touches and embellishments. The line includes 12 cards just for Valentine's Day – with choices for friendships and love relationships. Parker collaborated with the Hallmark creative team on design themes and messages for the cards, opting for simple, authentic and heartfelt messages.
Suddenly Flowers — Surprise a loved one with a Suddenly Flowers bouquet that never wilts. Just lift the lid off the designed box to reveal a beautiful bouquet of carefully crafted paper flowers with a sweet message for a Valentine.
Card Presenters — For Valentine's Day, people often deliver their cards in person, especially for love relationships. So Hallmark offers a collection of Card Presenters – elegant and beautiful designs with locking clasps, ribbons and other adornments to enrich the experience of hand-delivering a romantic card.
Magic Message Reveal Heart — This heart-shaped gold box features a crystal-clear window. When the recipient holds the heart in their hands, the message "Always remember I love you" magically appears in the window.
itty bittys® — Hallmark itty bittys, available exclusively at Hallmark Gold Crown stores, may just be four inches tall, but they'll bring big smiles to little ones on Valentine's Day and beyond:

Two limited-edition characters just for Valentine's Day: Disney® Happy Hearts Mickey and Minnie Mouse
Two new limited-edition characters: Disney® Donald and Daisy Duck
Available year round: Members of the Justice League™ including Wonder Woman, Flash, Superman™ and Batman™, the cast of Wizard of Oz™, Winnie the Pooh and friends, Mickey and Minnie Mouse, and many beloved Disney Princesses and other characters, such as Mike and Sulley from Monsters, Inc.
For the young at heart, Hallmark's popular techno-plush characters also bring smiles. Find these furry friends at Hallmark Gold Crown stores:

The Hearts a-Hoppin' Frog dances to a parody of the song, "Hot, Hot, Hot." A coordinating book, The Runaway Heart, features this fun frog as the main character.
The Yakety Smackety Dawg sings one of three verses of a parody of "Yakety Yak," each time the button is pushed. A coordinating activity book features mazes, matching, coloring and stickers.
Cupig, a plush pig with wings who shuffles and sings a parody of "The Cupid Shuffle" returns to stores this year by popular demand, along with a book titled Cupig's Shuffle.
All things Valentine's Day can be found at Hallmark Gold Crown® stores and other participating Hallmark retailers nationwide. Use the store locator on Hallmark.com to find the nearest Hallmark Gold Crown store.
Personalized Valentine's Day greeting cards are available on Hallmark.com, including 16 designs of classroom valentines that kids can hand out at school. Create the perfect Valentine's Day card by personalizing a message and adding a photo. Hallmark.com will stamp and send the card to the recipient, or back to the sender to hand deliver.
And for unexpected ideas for celebrating Valentine's Day, visit the Explore section on Hallmark.com.
About Hallmark Cards, Inc.
Hallmark makes the world a more caring place by helping people express what's in their hearts and connect in emotional ways with others. In the U.S., innovative Hallmark greeting cards and gifts are sold through the network of Hallmark Gold Crown® specialty stores, leading mass retailers and online. Worldwide, Hallmark offers products in more than 30 languages available in 100 countries. Millions of households enjoy family friendly television programming offered by cable's top-rated Hallmark Channel and fast-growing Hallmark Movie Channel. Hallmark's Crayola subsidiary inspires artistic creativity in children through Crayola® crayons and markers as well as other innovative art tools, crafting activities and creative toys. Privately held Hallmark is based in Kansas City, Mo., and continues to be led by members of the founding Hall family. Visit http://corporate.hallmark.com for more details.