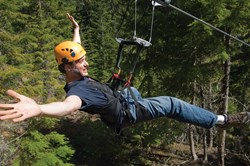 Valentine's Day is about love and romance, not to mention adventure and excitement.
Vancouver, British Columbia (PRWEB) February 11, 2014
The typical Valentine's Day activities are usually full of romantic gestures, candlelit dinners and relaxing spa treatments. The Vancouver, Coast & Mountains region of British Columbia is definitely a romantic destination, but it's also known for being a hot spot for adventure and excitement. So naturally we thought of the ultimate adventure seeker (and top-notch Valentine) - James Bond. Thus, we were inspired to create a list of 11 James Bond-inspired activities that can get your heart pounding.
001. Heli-Skiing - If you're going to ski the top resort in North America, you may as well go that one step further and splurge for a heli-skiing adventure with Whistler Heli-Skiing. High alpine skiing on un-tracked powder with your own personal helicopter and guide? It doesn't get more hardcore than this.
002. Scuba Diving - Come see why British Columbia is considered a scuba diving hotspot. The North Shore's Whytecliff Park offers diving close to the city, but the Sunshine Coast is for serious underwater explorers with its Emerald Princess bronze statue and the HMCS Chaudiere ship wreck - two of its many undersea treasures.
003. Bungee Jumping - Nothing gets your heart racing faster than a bungee jump in the Coast Mountains! Do a tandem jump with the one you love at Whistler Bungee - a romantic way to experience Whistler's ultimate adrenaline rush.
004. Parkour - Improve your James Bond moves with a session of parkour. Also called "freerunning" parkour is the skill of vaulting, rolling, climbing, and jumping through the urban environment. Origins Parkour & Athletic Facility offers a series of training classes for both adults and kids.
005. Skydiving - When it comes to adrenaline-pumping good times, skydiving is the ultimate challenge. If you have always wanted to try it, try going tandem out in the Fraser Valley or the Pemberton Valley. Hop on a single prop plane as they whisk you up to 14,000 feet and show you the door. Next stop? Ground floor. Going down.
006. The Snowshoe Grind - Grouse Mountain has translated the intensity and accomplishment of the Grouse Grind into a winter experience – the Snowshoe Grind. Located mountaintop, the Snowshoe Grind promises to challenge.
007. Shooting Range - Love may be a battlefield, but it can also be a shooting range. The DVC Indoor Shooting Centre in Port Coquitlam is the first heated indoor shooting range in BC that is open to the public and has rental firearms.
008. Extreme Trampolining - Extreme Airpark, with locations in Richmond and Langley, has taken trampolining to a whole new extreme. With 42,000 square feet of interconnected trampolines, why bounce on one trampoline when you can bounce from mat to mat and even bounce off the walls? Take it up a notch and bounce in the dark during "Air Assault"!
009. Kayaking the Skookumchuck - Definitely not for the novice or beginner kayaker, the Skookumchuck Rapids is home to a daily phenomenon that creates a standing wave when the rising tide tries to squeeze through the narrows. Experienced kayakers put on amazing shows of dexterity as they bob in and out of the wave and perform flips and rolls. Most of us won't be kayaking the Skookumchuck anytime soon, but anyone can hike in to watch the show, or book a custom boat tour with Sunshine Coast Tours and see the rapids up close and personal.
010. Sturgeon Fishing - Book a guided trip up the Fraser River and go in search of the elusive white sturgeon. Nicknamed the dinosaur of fish, because the species has remained virtually unchanged since prehistoric times, many grow to be 150 years old and over 6 metres long (the size of a school bus). To say that reeling one of these monsters in is challenging, is an understatement. According to Great River Fishing in Chilliwack, "It's like battling a cross between a marlin and a freight train!"
011. Ziplining - The fastest, highest, safest way to scare yourself silly. Zip through the air at speeds of up to 80km/hr at Grouse Mountain. The dual, five-line circuit gives you an adrenaline-pumping tour across the peaks and canyons of Grouse and Dam Mountains. Or head to Whistler, home Canada's longest zipline and possibly one of the worlds biggest. Something to consider you're pushing 100km/hr over 600 feet high… No, that's not a typo.
For more ideas about what to see and do during your visit to Vancouver and Whistler in British Columbia for Valentines Day or any day, please visit the region's travel inspiration website - 604pulse.com.
##
About Vancouver Coast & Mountains: Vancouver Coast & Mountains, one of six tourism regions of Super, Natural British Columbia, includes four destination areas: Metro Vancouver, Sea to Sky Country, Mighty Fraser Country, and the Sunshine Coast. This non-profit society is governed by a private sector board of directors who represent business and community tourism interests from throughout the region. VCMBC works with Destination British Columbia to utilize their combined resources and provide greater benefits to the provincial tourism industry through an integrated web presence. For more information about Vancouver, Coast & Mountains visit our corporate website or call 604-739-9011.