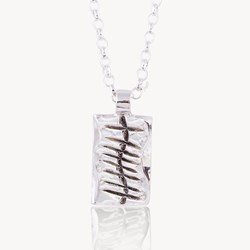 Roses will fade, chocolates will get eaten - secretly every woman is hoping for that perfect piece of jewelry this Valentine's Day.
New York, NY (PRWEB) January 29, 2014
Valentine's Day is just around the corner, the pressure is starting to mount - what do you buy for the woman in your life this Valentine's Day? Why not avoid the stress of booking a restaurant and the inflated prices for red roses this year by following this Valentine's jewelry gift guide from Síofra Hill, co-founder of leading online Irish jewelry store Celtic Promise. The best of gifts really do come in small packages.
The Cool Chick – If she likes to wow everyone with her unique and quirky style, how about a chunky Grá Love Pendant engraved in Ogham, the ancient Celtic linear script? Using simple groups of engraved lines, which are read from bottom to top, the tactile hand crafted pendant spells out "Grá", the Irish word for 'Love'. This is cool, hand crafted design – a subtle declaration of love for the cool chick in your life.
The Party Girl – "The party girl loves an excuse to celebrate," says Hill, "which makes a beautiful charm bracelet the perfect Valentine's gift." Charms are traditionally collected over a lifetime to celebrate life's special moments, so it's important to pick a bracelet that she will love. Hill recommends a Heartlink Charm Bracelet or a Button Charm bracelet from trendsetting Irish design company Button & Co. Their unique charm jewelry, inspired by a mother's rusty old button tin, is a great alternative in a market that has become saturated by beaded charm jewelry designs.
Super Mom – Not only is she is the love of your life, but she is also a super mom extraordinaire. Celebrate that love with a personalized birthstone ring or a birthstone pendant featuring the birth months of those she loves. "A lady loves when there has been thought put into a gift," says Hill. "This trumps over a corner store bunch of roses any day!"
The Old Romantic – Love heart pendants are always a popular choice, but it can be tricky to find the perfect piece. One of Celtic Promise's best sellers is their Celtic Heart pendant featuring a Celtic trinity knot captured in an elegant heart symbolizing eternal love. An alternative is the iconic Irish Claddagh who's Heart (love) Crown (loyalty) and Hands (friendship) design makes a succinct declaration to the woman you love.
The Keeper – Almost 6 million Americans expected to propose, or be proposed to, on Valentine's Day last year. Make this year a year to remember with a diamond ring for that really special someone. In the last 12 months, the store has seen a big increase in sales of their Celtic knot engagement ring designs, representing eternal love. Especially popular are their Trinity knot designs with their unique promise to Love Honor and Protect.
CelticPromise.com showcases Celtic jewelry and contemporary designer jewelry from Ireland's leading designers. The web based company promises 'heritage jewelry with a contemporary twist', and is offering 10% off all jewelry for our readers with coupon code VLOVE10 until midnight on 31 January.
Discover more at CelticPromise.com.
About Celtic Promise
Founded in 2010, online retailer Celtic Promise was started by Irish born entrepreneur Siofra Hill. The website CelticPromise.com promotes the talents of Irish jewelry designers to an International audience. With a product offering of over 700 traditional Celtic jewelry and contemporary Irish jewelry products, Celtic Promise has quickly become one of the leading Irish jewelry companies selling online in the US and Internationally.