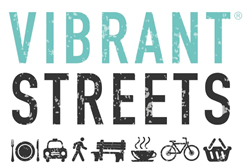 By using the toolkit as a guide, neighborhoods can begin to understand how to create strong retail options, while fostering a vibrant place to visit, work, and live. - Heather Arnold, Streetsense
Bethesda, MD (PRWEB) May 05, 2014
Vibrant Streets, Streetsense's community retail revitalization program, released a national toolkit for government agencies, neighborhood groups, businesses, and merchants associations during the American Planning Association National Conference in Atlanta, Georgia this past week. The new Vibrant Streets Toolkit helps users make meaningful, do-it-yourself changes to improve conditions for their stores and restaurants and serves as a step-by-step, adaptable guide that can be used in communities throughout the country.
The national toolkit enables neighborhoods to assess their starting point on an eight-step "retail vibrancy scale," and offers practical, guided steps on how to achieve greater "vibrancy," which includes economic development, revitalization, job creation, and cultural preservation. The toolkit recommends solutions for every type of community nationwide, regardless of size, demographics, or current retail environment.
"A vibrant retail core is a key ingredient to promoting livable, walkable, and economically-resilient communities," noted Heather Arnold, Director of Research and Analysis at Streetsense. "By using the toolkit as a guide, neighborhoods can begin to understand how to create strong retail options, while fostering a vibrant place to visit, work, and live."
The Vibrant Streets program began in 2012 with the creation of the DC Vibrant Retail Streets Toolkit, a guide for the nation's capital to support neighborhood retail environments through technical expertise and community engagement. The toolkit was announced by D.C. Mayor Vincent Gray and is currently being used by the D.C. Office of Planning (DCOP) to implement the Vibrant Streets methodology in 11 neighborhoods across the city. Vibrant Streets empowers DCOP to have a strategic conversation with retail stakeholders, moving from education about the current retail landscape to realistic goals for implementation. The Vibrant Streets program is catered toward each individual community's unique fabric, and seeks input from the community.
In 2012, the International Downtown Association awarded Vibrant Streets a Downtown Merit Award for its contributions to research in the field of downtown revitalization.
To purchase a copy of the Vibrant Streets National Toolkit, visit http://www.vibrantstreets.com. Introductory pricing of $80.10 is available for a limited time.
About Vibrant Streets®
Vibrant Streets is a program developed by Streetsense that helps communities revitalize neighborhoods by creating thriving retail districts through technical expertise and community engagement. Established in 2012, the Vibrant Streets program is adaptable to any community, regardless of its current retail environment. For more information and to purchase the toolkit, please visit http://www.vibrantstreets.com.
About Streetsense®
Streetsense is a multidisciplinary design and strategy firm specializing in retail, restaurant, hospitality, and real estate solutions. Known and awarded for their collaborative ideology, Streetsense focuses on creating memorable places, distinctive brands, and meaningful experiences. For more information, please visit http://www.streetsense.com or find us on Twitter (@realstreetsense) and Facebook (facebook.com/realstreetsense).