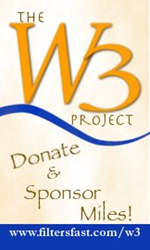 Donating miles is free and easy and may be donated individually or as a group. - FiltersFast.com
Charlotte, NC (PRWEB) June 09, 2014
In efforts to increase funding to the W3 Project, FiltersFast.com is asking the general public to donate (log) or sponsor miles, by visiting http://www.filtersfast.com/w3. Donating miles is free and easy and may be donated individually or as a group. Each mile equals a $1.00 donation made by FiltersFast.com.
There is the additional opportunity for customers to donate $1.00 when making a purchase during the checkout process, on FiltersFast.com. This donation also goes directly to The W3 Project.
With each $1.00 donation, Wine to Water is able to provide clean drinking water for 1 person for an entire year by building wells and providing water filters in communities throughout the world.
The W3 Project is a philanthropic partnership between FiltersFast.com, Wine to Water and Trekdesk. The mission of this project is to raise money for Wine to Water, a 501(c) (3) non-profit aid organization based in Boone, North Carolina, that focuses on providing clean drinking water to needy people around the world who do not have access to clean water.
Since 2004, Filtersfast.com remains a committed authoritative resource for informing consumers about the importance of changing their air filters and water filters. The mission of Filtersfast.com is to add to their customer's overall quality of life by offering first-rate products at the best competitive prices. For more information about the W3 Project and how to donate miles or sponsor miles, visit http://www.filtersfast.com/w3.