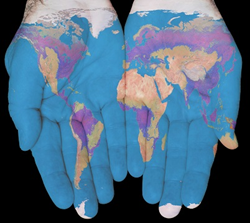 "WAAD14 unites the world of Autoimmune Arthritis under one 'virtual roof' so that all people can attend-right from their own sofa."
Los Angeles, CA (PRWEB) April 16, 2014
At 6am ET/USA on May 19th, 2014, the online Virtual Convention doors to World Autoimmune Arthritis Day (WAAD14) will open and 1,000's of attendees from dozens of countries around the globe will begin a 47 hour, interactive educational excursion that focuses on the Autoimmune Arthritis diseases, or those autoimmune diseases with a strong joint component in 90%+ of patients affected. While currently representatives from the United States, Guam, Canada, the UK, Spain, Switzerland, Crete, Australia, and New Zealand are signed on to participate, event planners predict this will triple by close of the live event at 5am ET/USA on May 21st.
World Autoimmune Arthritis Day was established in 2012 by the International Foundation for Autoimmune Arthritis and is currently recognized on over 20 healthcare calendars globally. Held on May 20th in every time zone (which equates 47 consecutive hours), the event was designed to be hosted online so that all people, regardless of location or physical ability, could participate. "As patients ourselves we understand the needs of the community," explains Rheumatoid Arthritis patient and Event Coordinator, Tiffany Westrich. "Patients constantly face challenges not only in finding the best information from credible sources but in finding the energy to attend events that may house these types of resources. WAAD14 unites the world of Autoimmune Arthritis under one 'virtual roof' so that all people can attend-right from their own sofa."
The theme of World Autoimmune Arthritis Day 2014 is "A Day in the Life of an Autoimmune Arthritis Patient" which focuses not only on disease management discussions and downloadable tips for patients but also invites supporters to take challenges that simulate real life patient experiences. Other features include:

Nonprofit Exhibitor Booths and Supporters: Over 4 dozen organizations from around the world will unite to teach patients and supporters about disease management as well as to share information about their programs and services.
Live Discussions: Feature Chats with researchers, patient advocates, authors, and other community leaders will be scheduled throughout the live event, as well as additional discussions hosted inside the Community Lounge and some Nonprofit Exhibitor Booths. (All chatting is translatable in 17 languages.)
Ask the Patient Feature Booth: Ask advocates questions about your disease, how to manage it, advice on dating and more.
Blogger Meet & Greet: Patient, supporter, and rheumatologist bloggers from around the world will be scheduled to 'meet' attendees and answer questions.
A Resource Center that features the 2014 Best of the Best patient-nominated Rheumatologists, Support Groups, and Bloggers, as well as an index of all resources located inside of the virtual convention site.
Other areas of World Autoimmune Arthritis Day include a Wellness Center, Research Room, Extended Diseases Center and Community Lounge.
Registration to attend WAAD14 is now open. Attendees may participate in the live portions of the event from May 19th at 6am ET/USA through May 21st at 5am ET/USA by pre-registering for $5.00 USD (cost includes a complimentary limited-edition shoulder bag while supplies last). Registration at the time of the event is $7.00. Attendees who do not want access to the live portions of World Autoimmune Arthritis Day can still download the resources for no cost by registering to access the site from May 21st 5am ET/USA through May 31st 11:59 pm ET/USA. Learn more about registration at the World Autoimmune Arthritis Day website.
*Autoimmune Arthritis diseases include: Rheumatoid Arthritis, Systemic Lupus Erythematosus, Juvenile Arthritis, Still's Disease, Ankylosing Spondylitis, Psoriatic Arthritis, Sjögren's Syndrome, & Undifferentiated Connective Tissue Disease/Spondyloarthropathy. WAAD14 also recognizes related diseases and includes a special Extended Diseases Center just for those diseases.
WAAD14's Resource Center is sponsored by Janssen Global, Inc.